I took a walk around the yard today just checking everything out. It must have been a while I'd done that, since I had quite a few, luckily mostly pleasant, surprises.
This Rose Of Sharon has always grown in the shadow of surrounding trees which are no longer there.  I never understood why it was planted there and remained quite a runt and hardly flowered.  We left it since it was back in a corner and not hurting anything.   Not this year!  With all the new sun and space, it has flourished and has been blooming like gangbusters.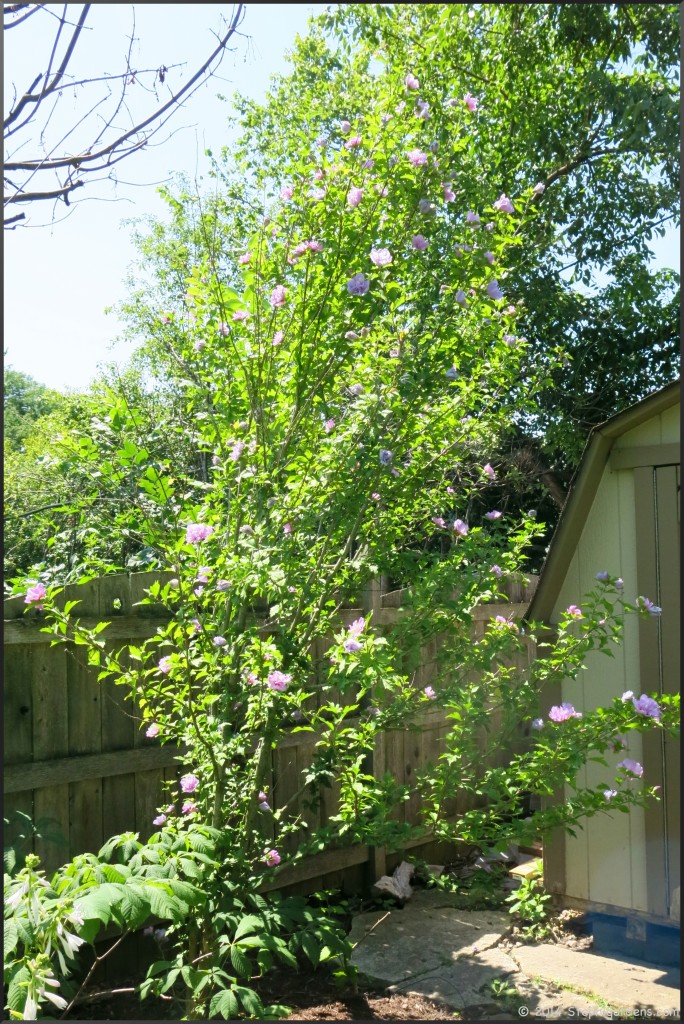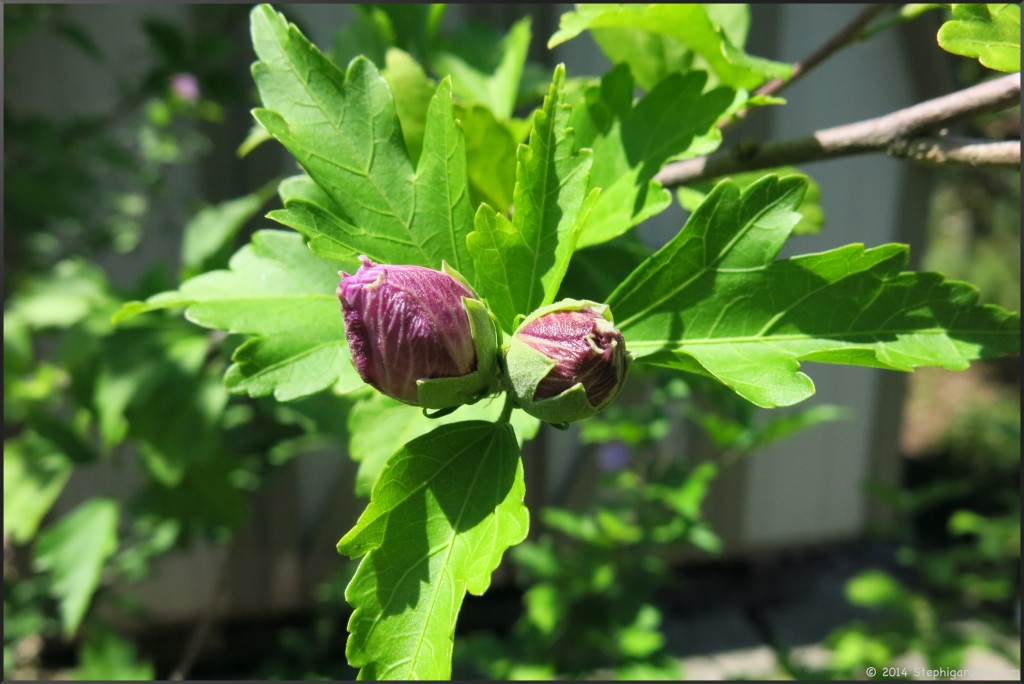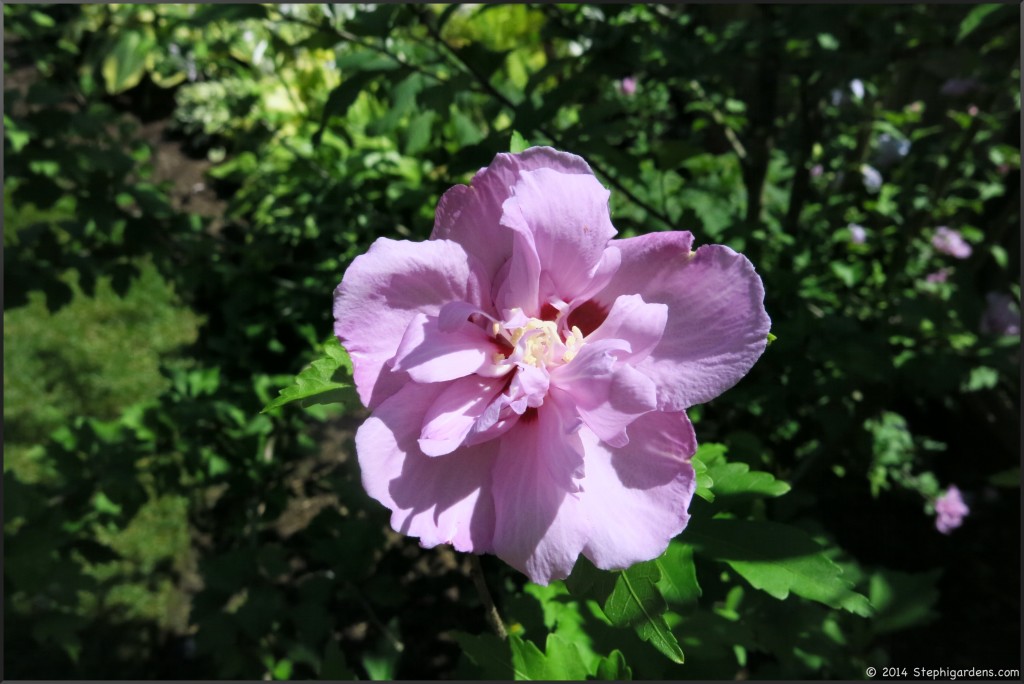 Next to the big Rose of Sharon is a small one I bought on clearance.  It was in even more shade and really never grew much.  It was pretty much overrun by hosts and ferns.  All of a sudden this year, it started blooming.  It's flowers are the more traditional hibiscus looking type.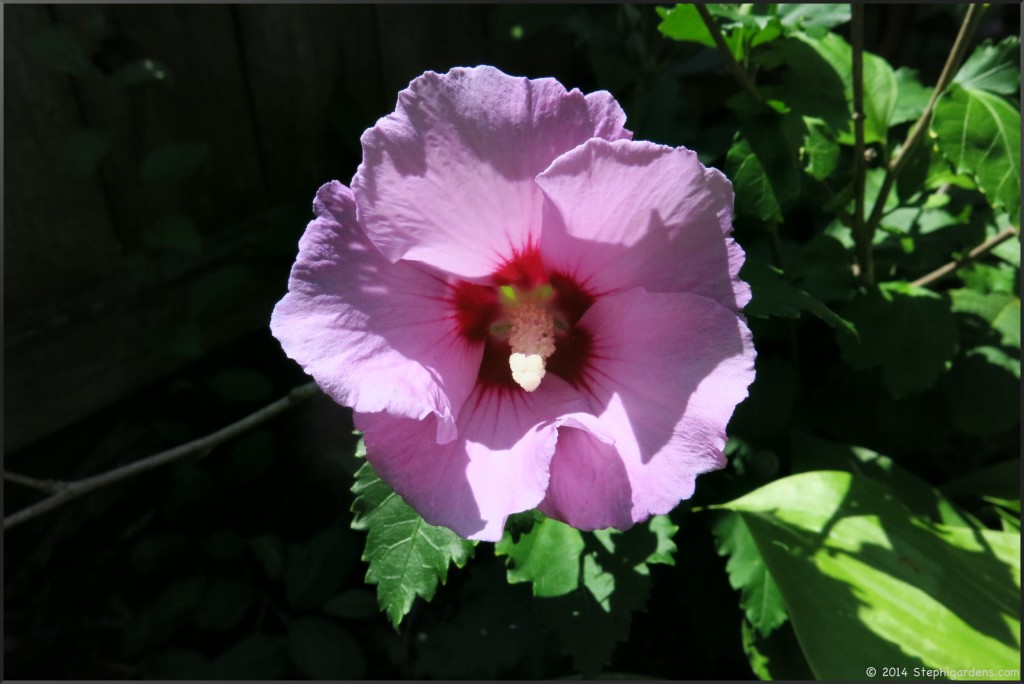 Then there's this white Rose of Sharon that just appeared from nowhere.  I thought it was a weed growing up next to the fence.  Kept cutting it back, but it was quite persistent.  After apparently not weeding for while, it unexpectedly flowered!!  My persistent weed was a very pretty white Rose of Sharon.  It actually picked a pretty spot to grow, so this one is staying put.   I also finally know what all those persistent weeds/baby trees in less desirable locations around the yard are.  I am a bit puzzled though where this one came from.   It must be a traveller from a neighbor's yard since all the Rose of Sharons in my yard are purple.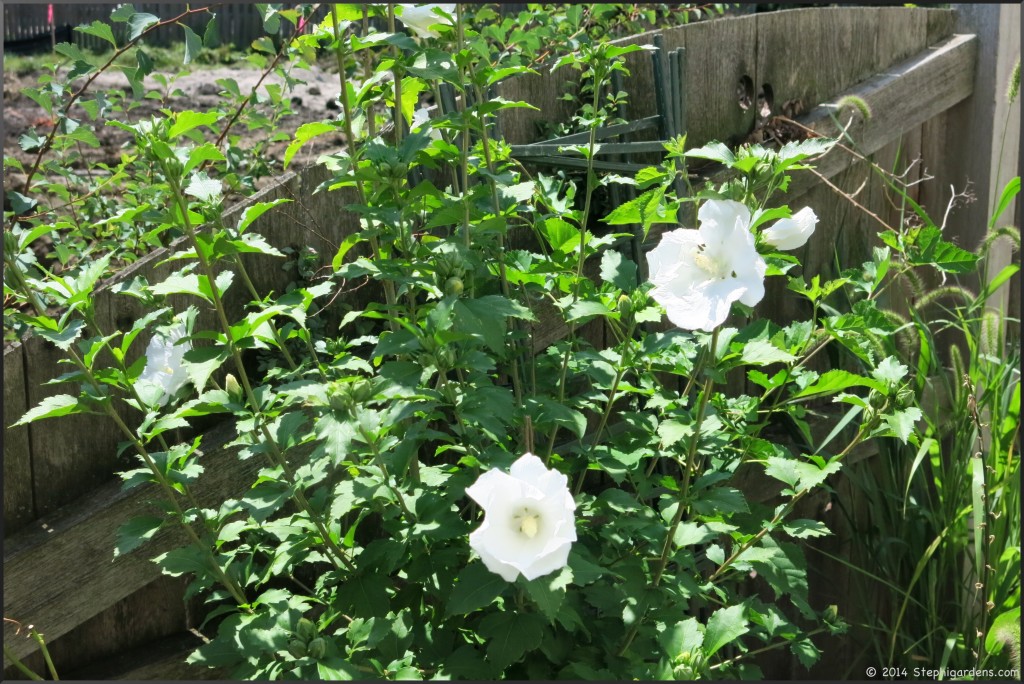 I apparently really haven't weeded very much lately and this huge thistle has grown about 6 ft tall behind the white David phlox.  I would have pulled it out, except that it is was being visited by some lovely bumblebees and goldfinches.  I think it'll stay for the summer.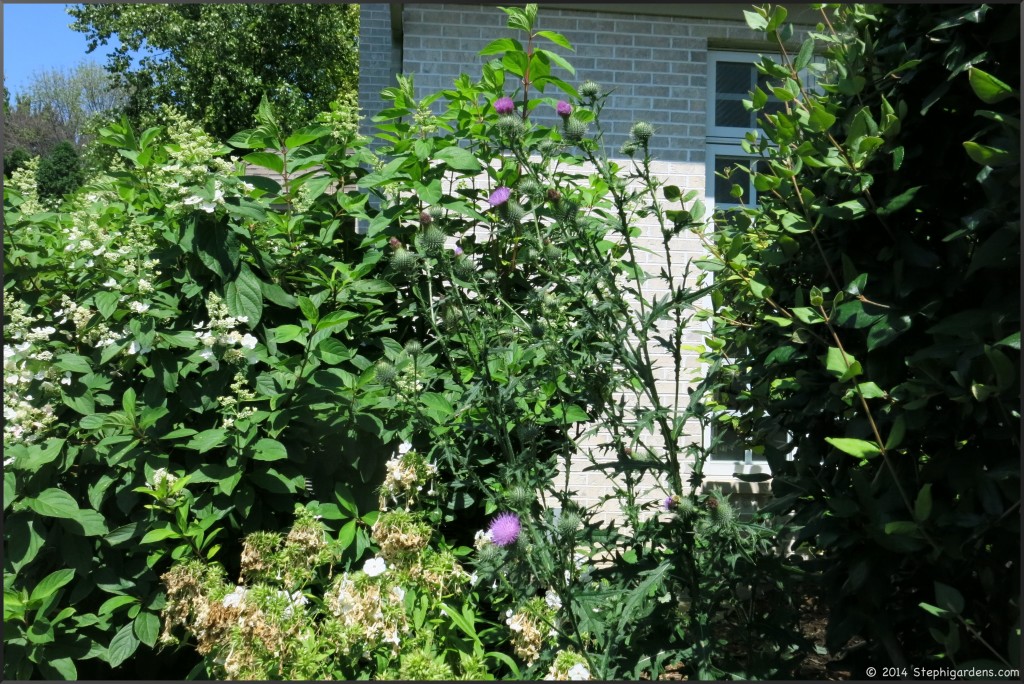 Last fall, I had moved some plants around so this spring, when things were coming up, I wasn't entirely sure what and where things were.  Early on,  I saw these little grass like leaves that I couldn't decide if they were weeds or flowers.  I let them be since they weren't too obnoxious.  Just this week, they finally put out a single daylily bloom.  Seems that some Happy Returns day lilies had found a new home.  Reminds me that, "When in doubt, don't pull it out!".
I have 2 Knock Out Roses that are a few years old.  They've struggled with Japanese Beetle attacks, and then this past winter really did a job on them. They looked pretty haggard, but I left them alone to see what would happen.  Finally, one is putting out a few blooms.  I'm going to trim off the dead stems and be extra vigilant about the Japanese Beetles.  Hopefully the plant will be strong enough to come back healthier next year.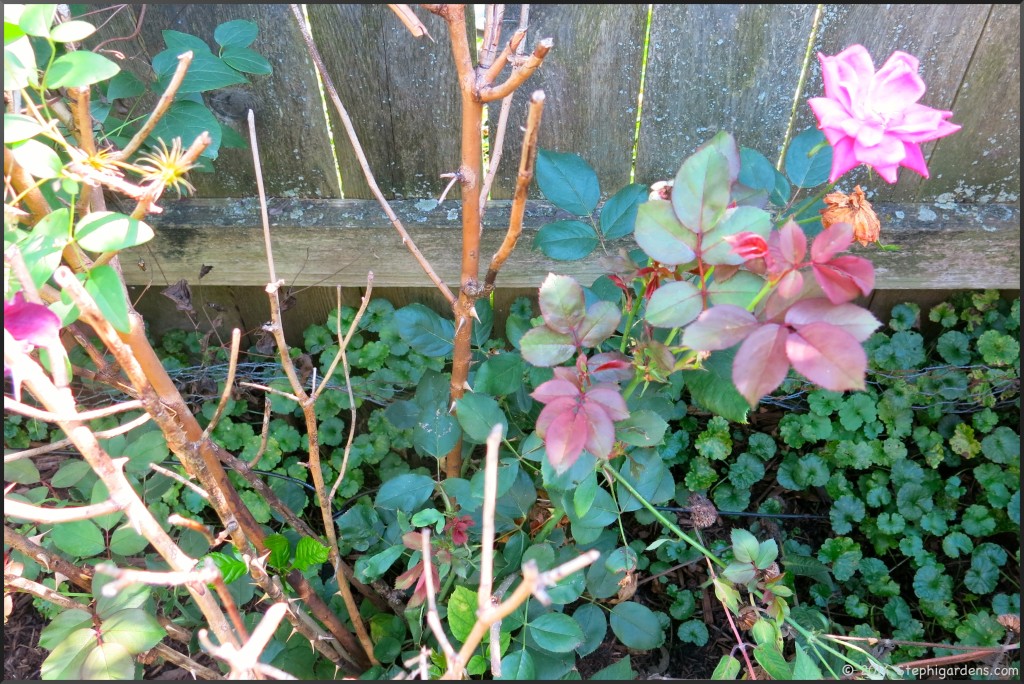 I"m not quite sure why my 1 year old Wine and Roses Weigela is blooming a second time this season.  In any case, it's healthy and looking great in this spot.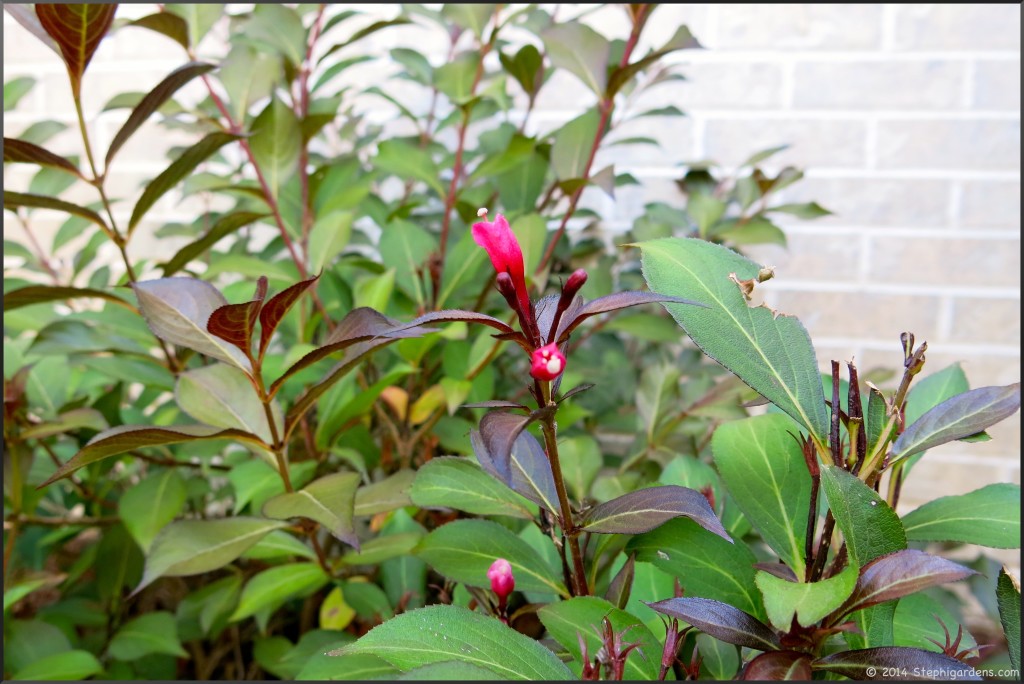 While I don't have any pictures, I am excited to have seen a few hummingbirds in the yard recently.  They haven't come to the feeder, so either they don't like my food selection or there's enough natural food for them.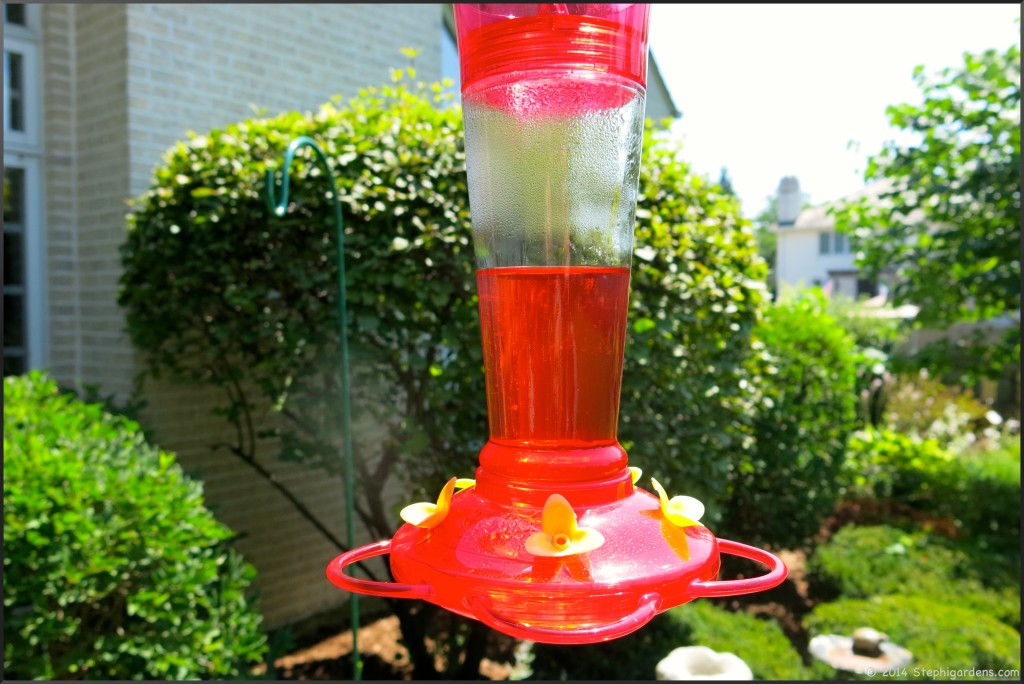 Last, but not least in my opinion, are these French Favorite Marigolds from Botanical Interests  that I grew from seeds.  I have never had such beautiful marigolds grow in the spot (and for as long as we've lived here, this has been my marigold garden).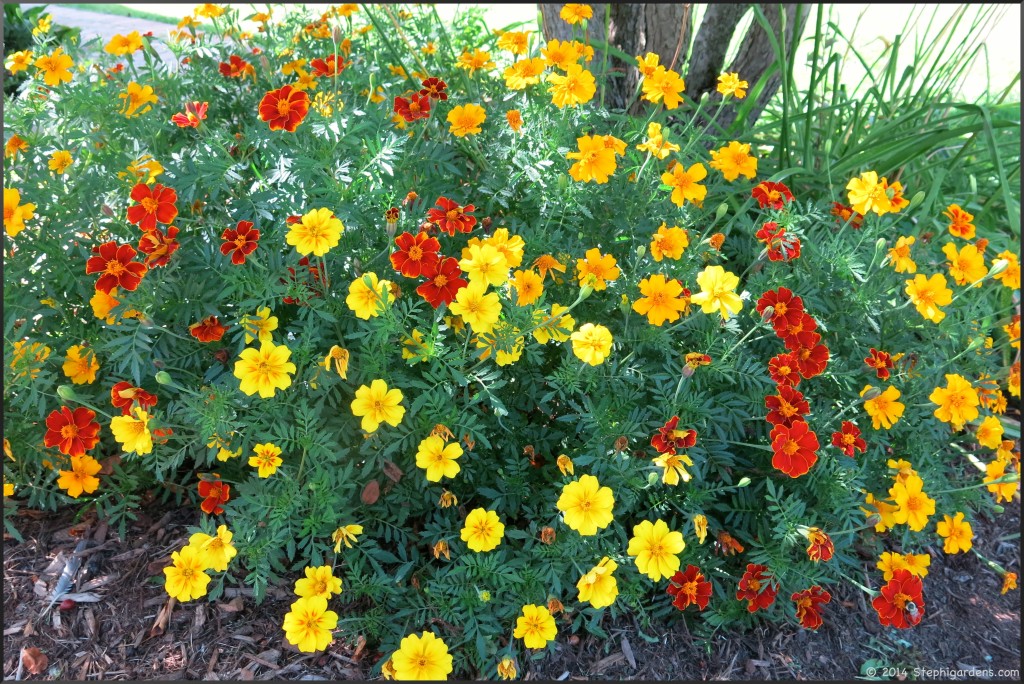 Have you had any pleasant garden surprises this year?