One of my favorite flavors to cook with is leeks. They have a unique and interesting mild onion taste and are part of the allium family that also includes onions, garlic, shallots, scallions and chives. Last year, I found I had wild leeks (ramps) on our WI property and have really enjoyed finding, harvesting and cooking with them (see Spring Leeks (aka Ramps)).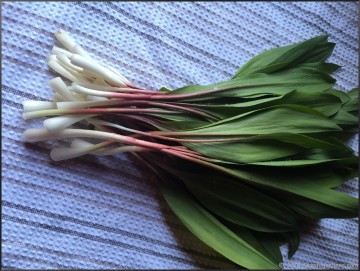 But they are only around for a short period in the spring, and I have to be careful not to harvest too many or run the risk of wiping out the wild colonies. I'd rather err on the side of harvesting too few than too many and be sorry in a few years.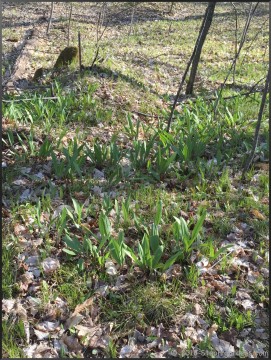 So what to do? How about grow some cultivars in my own garden? I've already started growing my own garlic, onions, shallots and chives. So how about adding leeks!
It seems like as with most alliums in a home garden, it's best to start with some type of starter plant or bulb rather than seeds. In that regard, a numbers of sources sell lots of different varieties of leek seeds, but only a couple of varieties come as starter plants. I decided to make it easy on myself and ordered King Richard (Allium porrum) starter plants from Johnny's Seeds.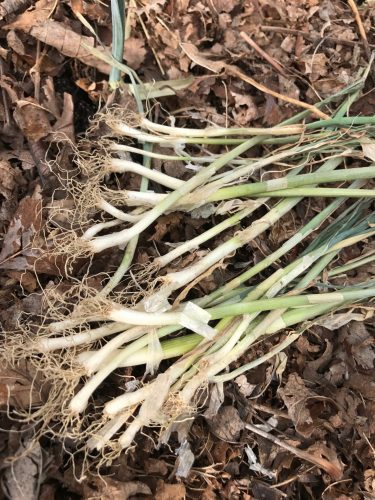 It was a toss up between the King Richard and Lancelot (Allium ampeloprasum) leek plants. King Richard is an early season leek, maturing in just 75 days, is frost-hardy but will not overwinter, while Lancelot is a mid season leek, maturing in 105 days, and is winter hardy.
My packet of starter leek plants came in early spring, a few weeks before the last frost date. Leeks are cold season plants, so they should be planted before the last frost date. They'll tolerate a light frost just fine and need the extra growing time. Like garlic, shallots, and potatoes, they have their own unique way to be cultivated. In order to keep the nice white part of the leeks white, the growing plants need to be blanched, which means that part of the plant needs to be grown out of sunlight. You can grow them in trenches that you fill in as the plant grows, or plant in holes using a dibbler. I used the dribbler method, although I had to improvise with a thick garden stake last year. I now have a dibbler and it'll be much easier to do this year.
In early spring, in light, soil poke holes with a dibbler or thick stake, 6 inches deep, 6 inches apart, in rows 24 inches apart. 
Drop one plant in each hole leaving only 1–2 inches of the leaves above the soil surface.
Do not fill in the soil around plants, but let rain or irrigation or rain slowly fill in the holes. This allows for self-blanching of the edible white part. If need be, later in summer soil can be pushed up against the growing plant to increase the white blanched part.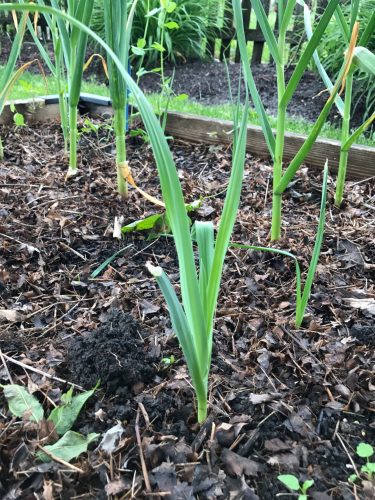 I staggered my leek and garlic plants since they are opposite in growing seasons (which is why my garden above in the planting photos looks "messy"). The garlic is planted in the fall and harvested mid-summer, the leeks planted in spring, harvested in late summer/fall. Leeks can be grown in between many early vegetables, but keep away from legumes like beans since the leeks will inhibit their growth.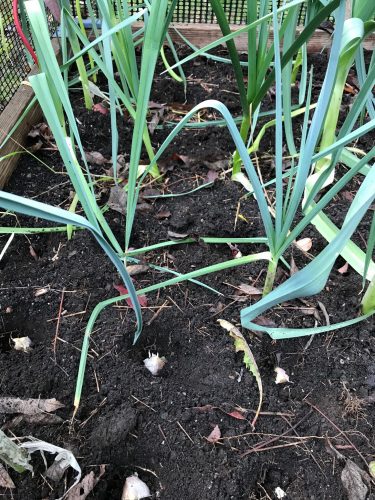 Leeks can be harvested anytime late summer (after they get about 1 inch in diameter) through early winter. Best way is to dig around the plant to loosen the soil, and then give a good pull.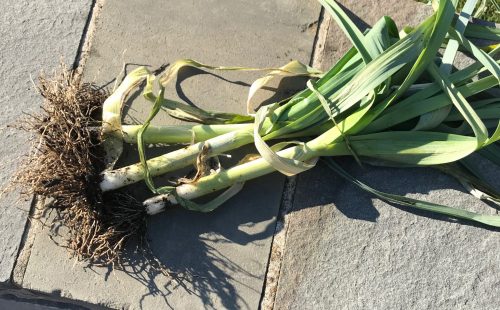 Most leeks are winter hardy and can withstand light to hard freezes depending on variety. Harvest as you need them, they stay fresher in the ground than in your refrigerator.
Unfortunately for me, I got a little cavalier with the plants in my Wi garden and the ground froze solid before I got all of the leeks out.  I'm hoping they survive the winter and I'll have fresh spring leeks 😔
In early winter, before the ground freezes solid, harvest whatever you have left, peel off the dead outer leaves and trim the roots and leaves. Store in the refrigerator crisper drawer until needed.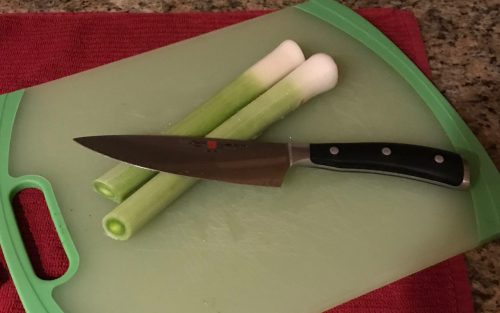 To use in cooking, trim off the roots and cut off the tops where the white is turning light green. Generally, only the white and lightest green parts are used for cooking. Then cut in half and rinse well. Because of how they are grown, dirt and sand often finds its way between the leaves and needs to be rinsed out.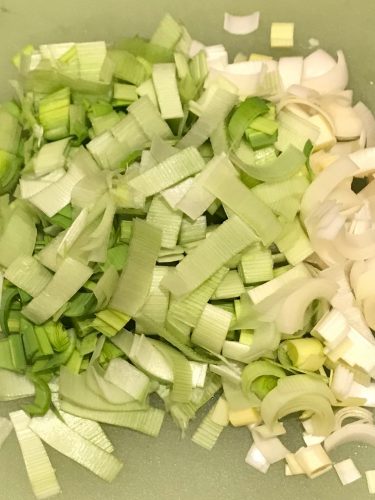 They can now be blanched for freezing, or used fresh in your favorite leek recipe. A few of mine are my Thanksgiving Leek, Apricot and Chestnut Stuffing (recipe here)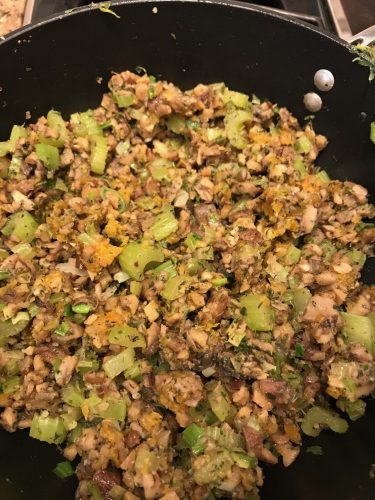 Shrimp, Leek and Spinach Pasta from Real Simple is wonderful for a quick, tasty dinner.
Spinach, Goat Cheese and Leek Quiche. The original recipe calls for chives, but I like to substitute sautéed leeks for the chives, and to simplify things I often use a refrigerated Pillsbury pie crust. This is a staple in our house for holiday brunches.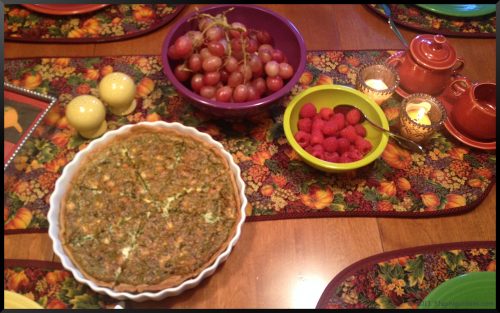 I'm getting ready to order my plants for this year. I think I'm going to try the Lancelot variety from Dixondale Farms. Lots of good advice on growing onions, leeks and shallots on their website.  Johnny's has tons of great advice too!
So many ways to use these versatile, mild onions. What's your favorite?