I've been away for a bit, enjoying time with my family. I was lucky enough to host everyone here for a Thanksgiving gathering, that included my daughter that lives on her own now, my mom and my sister. Thanksgiving is definitely a wonderful time to spend with family, and to remember those who can't be with us. For many years, Thanksgiving was just the five of us since my husband rarely had time off, so traveling was out of the question. But we still made it special and developed our own wonderful family traditions, mostly centering around food.
We get up to a yummy brunch…
…and in the last couple of years, one or more of the kids are off to a turkey trot first.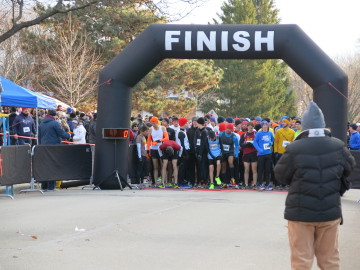 After brunch, the turkey gets stuffed with my delicious Leek, Apricot and Chestnut Stuffing and put in to cook, making the house just smell delicious.

| | | |
| --- | --- | --- |
| Leek, Apricot and Chestnut Stuffing | | Print |
Author:
Stephi from stephigardens.com
Prep time:
Cook time:
Total time:
A delicious savory and sweet turkey stuffing
Ingredients
2 loaves french bread, cubed and air dried
2T olive oil
6T butter
4 stalks celery-sliced
2 med leeks-cleaned and thinly sliced
½ lb mushrooms-sliced
2 med cloves garlic-minced
16 oz chestnuts-coarsley chopped
½ c dried apricots-coarsly chopped
½ c fresh parsley
2 tsp dried sage
2 tsp dried thyme
salt and pepper to taste
1-16 oz can low sodium chicken broth
Instructions
Over medium heat, melt oil and 2T butter in large skillet.
Add celery, leeks and mushrooms, sauté 6-8 minutes.
Add garlic-saute 1 minute
Remove from heat, stir in remaining ingredients.
Stuff turkey
Extra: Put remaining in a medium, buttered casserole dish.
Dot with remaining 4T butter; cover with foil
Bake 325°F for 20 min (with turkey); remove foil and raise temperature to 375° for 10 min. (Add a little more broth if it seems a little dry)
Then there's time for a bit of relaxation to catch the end of the parade or maybe kick-off, before the midday appetizers and drinks come out.  On the menu this year was Sage and Prosciutto Stuffed Mushrooms, Prosciutto, Gruyere and Sage Palmiers, Zucchini Casino, Spinach Dip with Vegetables and assorted olives.
We celebrated the holidays this year with delicious, sparkling glasses of Pomegranate Prosecco .
After mid-day appetizers, there's plenty of time for football and maybe even a walk before the pre-dinner panic sets in. Glad I had so many helpful and willing hands in the kitchen this year.  This year's dinner consisted of fresh turkey, stuffing, mashed potatoes, gravy, rolls, green beans wrapped with prosciutto, jellied cranberry sauce (from a can, what can I say it's what everyone wants), celery, carrots, black olives and rolls. Finished off with apple and pumpkin pies.  What a wonderful day!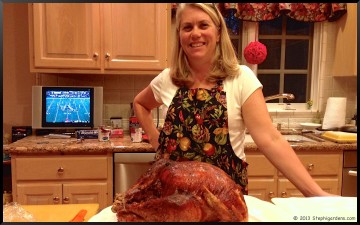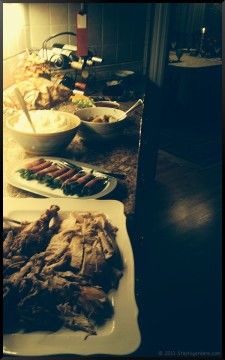 Then of course there's Daisy who just wants so badly to be part of this all.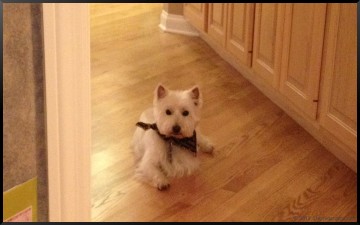 I hope your family had a wonderful Thanksgiving.  Many of the recipes can be found on my Pinterest site
(Many thanks go to Emily, Peggy, Sherry and Steve for helping with the pictures)