Over the summer at the Farmer's Market there was a booth, Katic Breads, that sold the best bread you could imagine.  Everything was delivered warm, fresh and perfect. It also didn't hurt that the women running the stand were so cheerful week in and week out.   As the market wound down for the winter, customers were asking what to do for the winter months??  We had become used to our focaccia, ciabatta, french breads, harvest breads and, of course, the delicious fresh croissants.  To satisfy their loyal customers, they set up a way to have a standing order delivered to a fabulous local coffee shop, Cafe la Fortuna every other Saturday.  Dusan Katic, the baker, assured us that all their items could be frozen with no problems.  Well, they were right.  Even the croissants that came out of the freezer and reheated just a little, were perfect.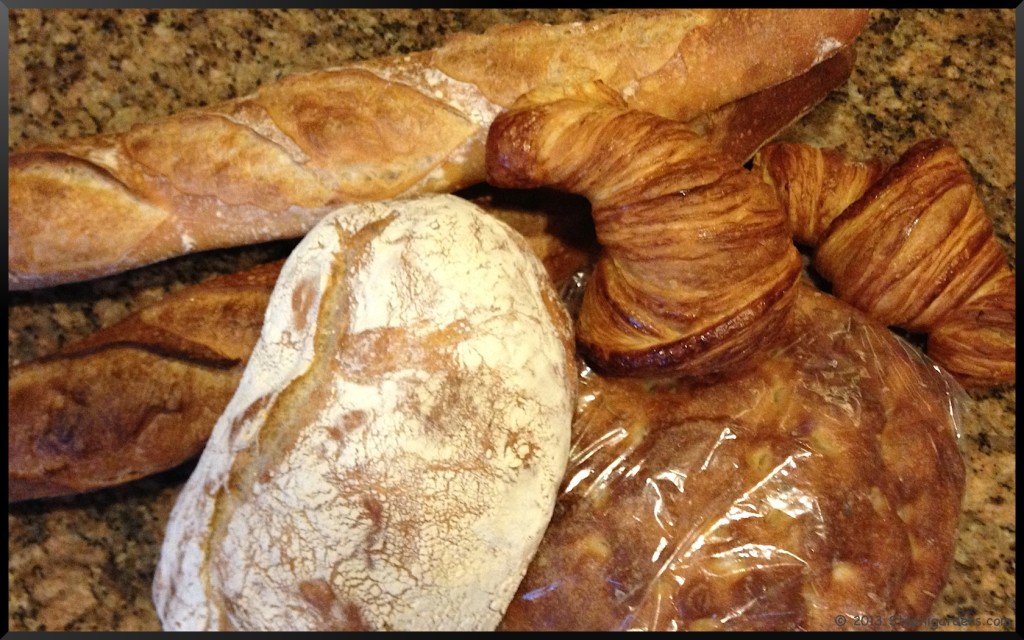 I just picked up my second order this morning.  Once home, I wrapped everything for freezing, and then enjoyed a fresh croissant with Mammoth Cave Black Cherry Preserves, a specialty of the Mammoth Cave National Park Lodge, and a steaming hot cup of Cafe la Fortuna coffee.  That's a great way to start a Saturday morning.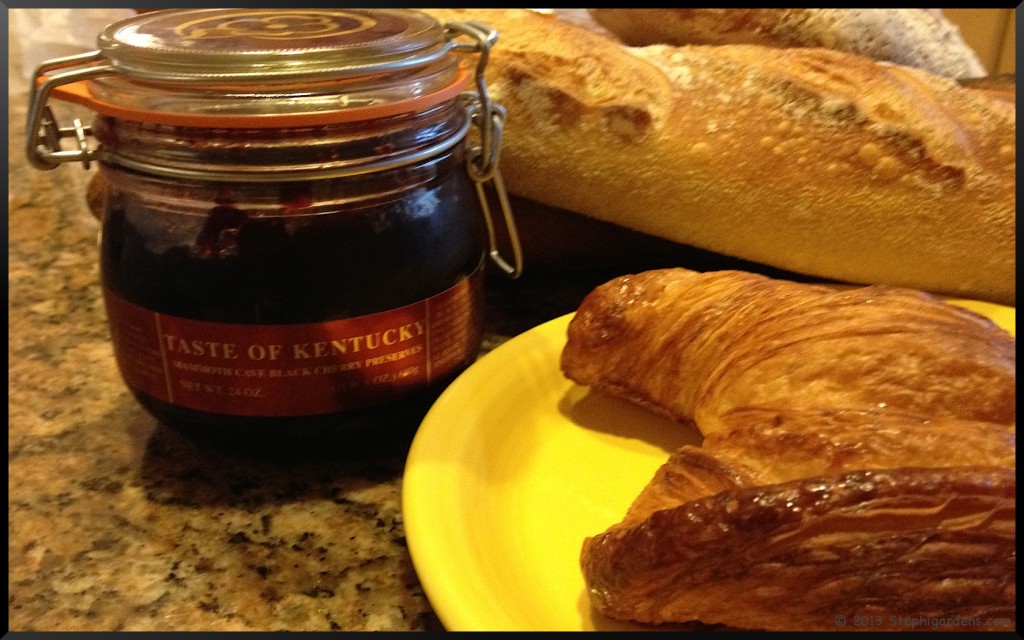 Here's Dusan Katic's instructions for storing their fresh breads:
 FREEZING
  If you bought a loaf and are planning on freezing it for later use, place it in a closed plastic bag, in the freezer, as soon as you can. The fresher you freeze it, the fresher it thaws. When you are ready to serve your bread, let it sit out to thaw while the oven is warming up to 350F. To get a crispy crust, wet the surface of the bread with a spray or with your hand. Then, place the thawed/sprayed loaf in the oven for 5-10 minutes (depending on the size of the loaf). If you don't care to crisp the crust, then wrap the loaf in aluminum foil and place it in the oven (especially for rolls).
STORAGE
  Never store bread in the fridge. This actually accelerates staling. Remember that the loaves you receive are pulled out of the oven at 7AM. If you cannot finish the loaf near this peak time, then freezing portions is a much better plan compared to storing in the fridge. Avoid leaving the bread in sunlight. Store bread in a paper bag or wrapped in a kitchen towel in between use.

If you have a chance to find them at a farmer's market or specialty store in the Chicago and Northern IL area, pick some up. You won't be sorry.