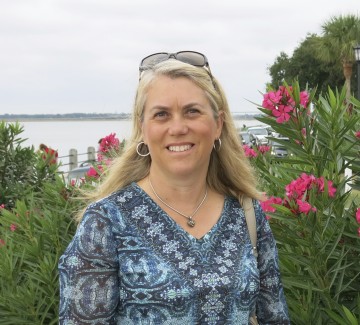 I've been married more than than 25 years and we have three children (a twenty-something daughter and twin teen-age boys) and a sassy Westie.  We've lived in our house in suburban Chicago since 1994 and through the years I've developed a passion for gardening, although I'm not necessarily very good at it.  With this site, I hope to pass on some of the information I've learned and experiences I've had.
Since I'll be the first to say I don't always have the eye for taking great pictures, you'll sometimes see photos credited to my more photographically talented husband Steve. Also, from time to time, I will have my mom, Peggy, as a guest blogger and photographer.  She currently lives in upper Michigan, has a wonderful large yard full of a variety of gardens, and is a self taught nature photographer specializing in flowers, birds and dragonflies.
Hopefully I can help make your gardening experience easier and more interesting. I'll also be tossing in some cooking, crafting and traveling posts as well.  I'd love to hear from you.  What works, or doesn't, for you?  Add your thoughts.
Basic Garden info:
My town is USDA Hardiness Zone:   5b  (-15 ºF to -10 ºF)
Average Last frost date for my area is  April 21-23  (Although I'm not entirely comfortable until Mother's Day)
Average First Frost Date is October 12