This weekend I finally had time to get my seeds and seed starting materials out to get them started indoors.  I usually try and plant vegetables like cucumbers and summer squash that I have trouble finding in stores,  but I buy my tomatoes and pepper plants from a local nursery who has a great selection.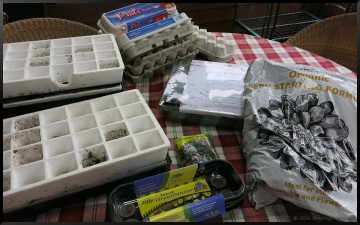 I hauled out all the seed starter kits I had (see Starting Seeds Indoors), plus I bought some new trays to expand what I can grow.  I also bought a great new mini greenhouse to set all the trays on and set it up on the porch.  I'm hoping this will work better then the tray tables in front of a bedroom window!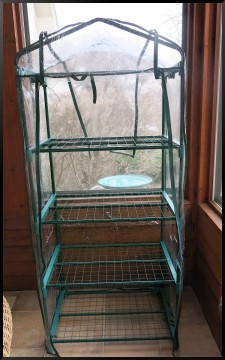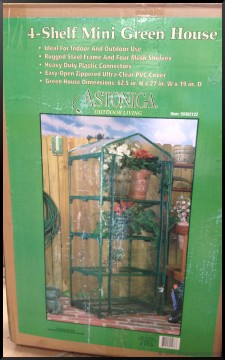 I first started with my APS-24 systems (see Starting Seeds Indoors for more thorough instructions)  I like this size for starting vegetables and larger flowers.  Be sure to thoroughly wet the capillary mat and pre-moisten the sterile germinating mix used to fill the holes.
Then add the seeds according to directions as to how many per grouping and how deep (you'll thin them later).  Be sure to label them so you know what you've planted!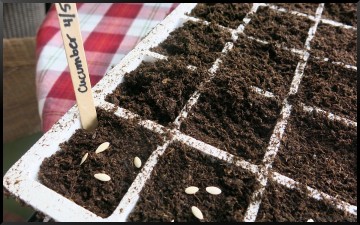 Since I have my new shelf and have space for more trays, I added to my collection of seed starting trays.  I bought a couple of different kinds to try, a 72 cell Ultimate Growing System from Burpee to replace my missing APS one, and some smaller Jiffy 12 cell kits.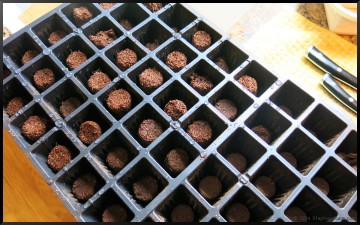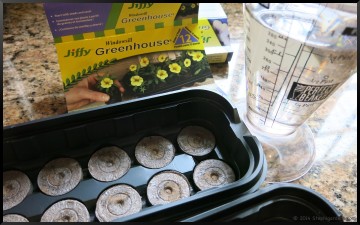 Both of these use soil pellets that you add water to and they expand.   Like the instructions say, warm water does work better.  After setting up all three kinds of soil cells, I think I prefer the old fashioned germinating mix that I pack myself.  I found the pellets a bit difficult to get to rise evenly and needed to still fluff the mix in the Burpee kit.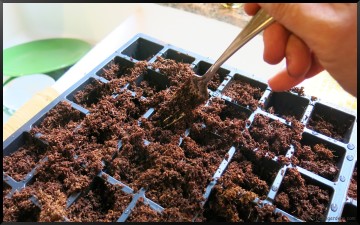 I'll see what I think after everything gets going as to which system I prefer for ease of use, and which holds up better for use year after year.  For anyone who noticed the chunk missing from the styrofoam APS system, that was my fault.  I'm not sure why I decided it what a good idea to pick up the full tray with one hand to move it.  That missing piece would be where my thumb was.  Otherwise, I've had these for years without any problems.  Best to move all these trays with two hands!
Most of the germination instructions say plant inside 4-6 weeks prior to the last frost date.  I'm about 3 weeks prior, although I usually wait a couple more weeks until mid-May before putting them in the ground.  They should be fine starting this week. Here's what I planted:
24 cell size:
Cucumber, Marketmore Organic (Botanical Interests)
Summer Squash, Baby Round (Botanical Interests)
Summer Squash, Cubes of Butter (Botanical Interests)
Summer Squash, Patty Pan Scallop Blend (Botanical Interests)
Zucchini, Burpee Hybrid (Burpee)
Marigold, Boy O' Boy (Burpee)
72 cell size:
Cosmos, Sonata Mix (Burpee)
Marigold, French Favorite (Botanical Interests)
Jiffy pop-ups:
Zinnia Cut and Come Again (Botanical Interests)
Zinnia Fireball Blend (Botanical Interests)
Here's the finished project.  All ready for the sun to shine on it and get everything growing.