This past spring while wandering my Door County, Wisconsin woods, the ground was covered with beautiful, light green leaves.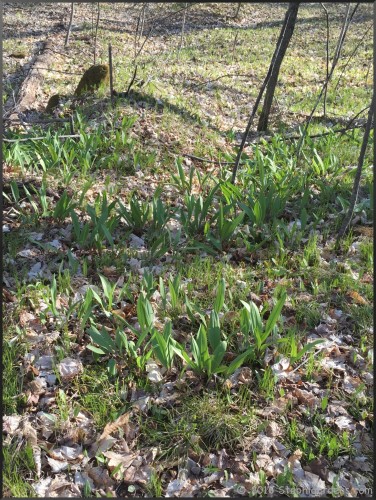 I knew it wasn't trout lilies, since the leaves weren't mottled, but I also knew it looked familiar.  Without a flower, I wasn't sure what this plentiful plant was.  I sent a photo to my expert and she instantly answered "Leeks"!   My mom went on to remind me when I was a kid, we had people who would pull off the road near our cabin in Western NY and scramble around in the woods harvesting them.  I knew I had seen them before.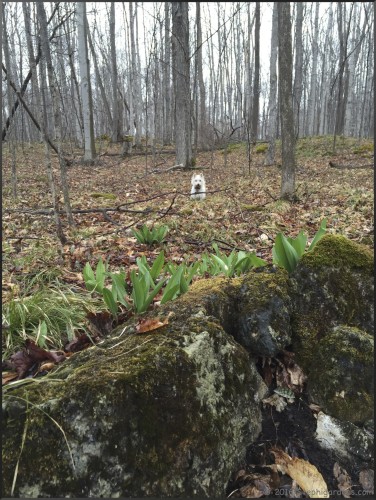 I did a little more research and realized I had a little foodie gold mine back there in the woods.  Wild Leeks, or Ramps,  (Allium tricoccum) have a sharp flavor, similar to an onion or garlic and come into season in the early spring.  You can recognize them by their smooth green leaves that emerge from the ground, with a hint of purple on the lower stem.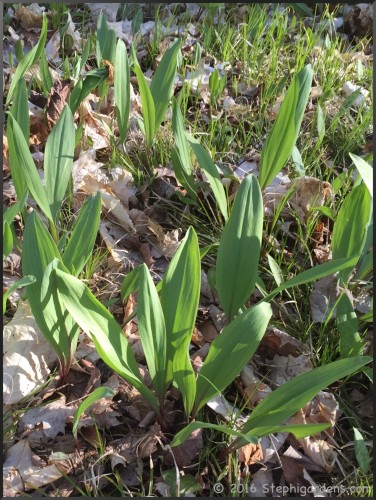 You know for sure you have ramps, when you break a leaf and you can distinctively smell onion/garlic.  No smell, no eating!!
I had never used them before, so I harvested just a little to try out in a couple of recipes.  Wild leeks are actually endangered or rare in many areas because of over-harvesting and they are hard to cultivate.  Rule of thumb to maintain a healthy patch is to only pick 5-10% of a patch, or harvest only the leaves.  To harvest, it's easiest to use a trowel and loosen the dirt to make it easier to pop out the bulb and greens as a one.  Or, just have a clean shears to trim off the leaves and leave the bulbs behind.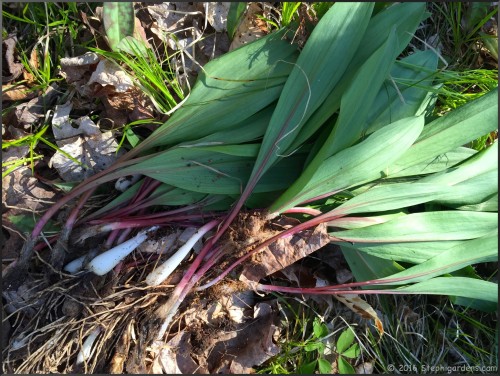 Once I picked what I thought was enough to try in a couple of recipes, I left the rest alone to grow and be healthy for many years to come.  I also knew I wasn't going to be able to eat them right away so I chose to freeze them for later use.
To freeze, first clean off the dirt, peel off any slimy outer skins and cut off the root end.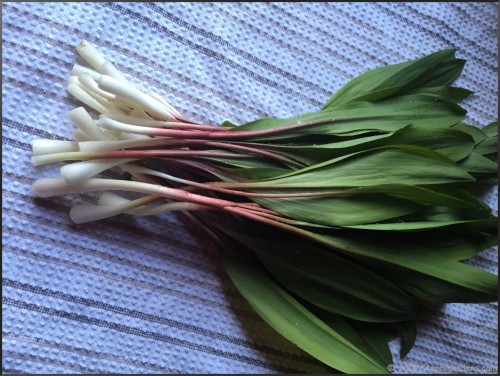 Oh, they look so delicious and the house smells so tasty. I then cut off the white bulbs and and put them directly into a freezer bag.  The greens I blanched for 1 minute in boiling water, plunged into ice water and then placed in a separate freezer bag.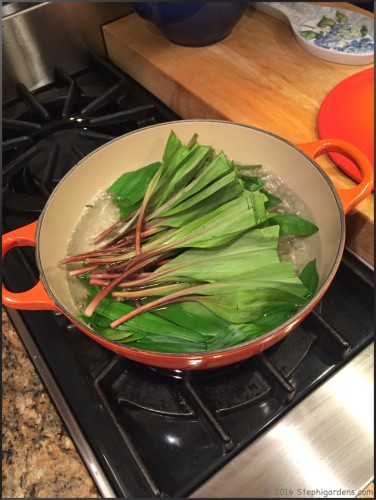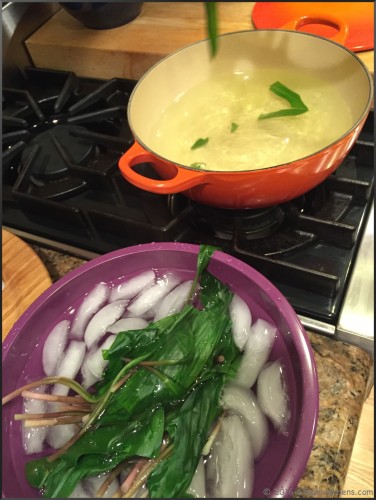 Once things had settled down a bit, I finally was able to get them out of the freezer to try.  I decided a Wild Leek Risotto was a good place to start.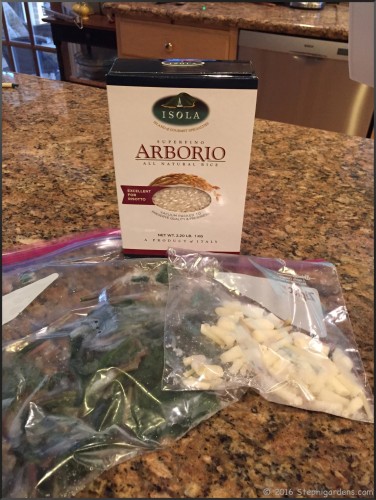 Using a tasty recipe for Wild Ramp Lemon Risotto from DOC  from The Kitchn, I made my first recipe.  Yum, is all I can say.  What a perfect low sodium side dish for some grilled Copper River Salmon.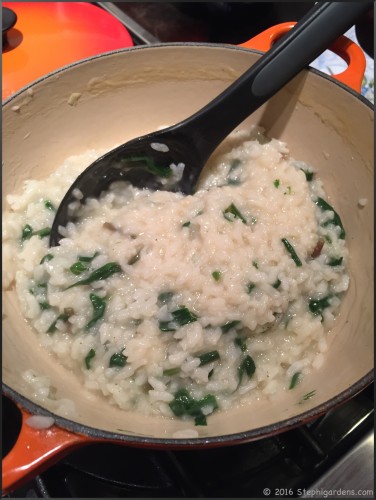 I still have enough for another meal and I have a bunch more risotto options to try. Check out my Pinterest site for some wild leek/ramp ideas.
Have you tried any foraging foods this spring?
BTW, the two things that are easily confused wild leeks are Trout Lily and Lily of the Valley.  Trout Lily have mottled leaves and white or yellow flowers that will appear at the same time and do not smell like onions.  Lily of the Valley are toxic and have two or three leaves on one stem, come up later in the season, and DO NOT SMELL LIKE ONION. As one who is not keen on foraging, I can attest to the fact that wild leeks smell like onions/garlic and lily of the valley do not.  Use that as your guide and all with be fine and delicious.
Now I'm ready to try out my garlic scapes.