As I've worked on the problem areas in the front yard, I created another sore spot in the area where we moved the Annabelle hydrangeas from. On the north side of the house were the 4 hydrangeas and a row of Hicks yews. The hydrangeas had to go because they were just too big for the space, leaving big gaps at either end. They look great where they are now!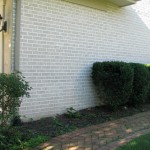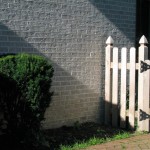 It's is a difficult place to plant because it is on the north side and under the soffit of the house. Therefore very shady and somewhat dry. The yews have done just fine, but I do give them at least about a watering can full of water dumped right down the center every 2-3 weeks during the summer and into fall. I didn't want to add more yews, but instead wanted a deciduous plant that could take those conditions. I watched the location for a few weeks and decided it gets about 3 hours max of full sun. I settled on Wine and Roses Weigela. While it would flower better and have darker leaf color in full sun, I think it will look good in the space, and be a good contrast to the yews, even in this less than ideal location. If it does awful, I like the plant enough to move it to a different location after a couple of years.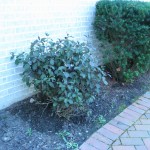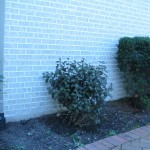 This area still looks a little sad, especially without the mulch in yet, but I've learned in the past to be patient and let plants grow into the space. I've had to dig too much up after a few years because too many flowers, shrubs and even trees were planted too close together. Money down the drain! In a few years this will grow to be a healthy plant and not be overflowing the space.