I don't really feed the birds over the summer because there's plenty of natural food around for them.  But as the plants die back, seeds become scarcer and the cold sets in, I get the feeders out.  I have to admit, I'm pretty sloppy when I put things away, so they really needed cleaning and checking out for any problems.
First up was the Squirrel Stopper Feeder Pole.  I still love this pole set-up for keeping off the squirrels and hanging a good assortment of feeders.  I just wish I hadn't put it up so close to a tree that the squirrels can jump from (they warned me in the instructions!).  But, I decided to sacrifice for the ability to watch the birds so easily.  I will say that to the pole designers credit, NO squirrel has climbed up the pole.
But, back to cleaning.  I had been noticing a little rust and accumulated bird dirt on the poles, so after wiping it down, my husband Steve sanded the rust spots and sprayed a little Rustoleum on it.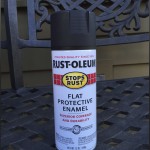 Now ready for the feeders.  I have feeders for peanuts, suet, sunflower seeds, a fun No/No Sunflower Ball for the chickadees, a No/No Cardinal Feeder and cheerful a No/No Sunflower Feeder.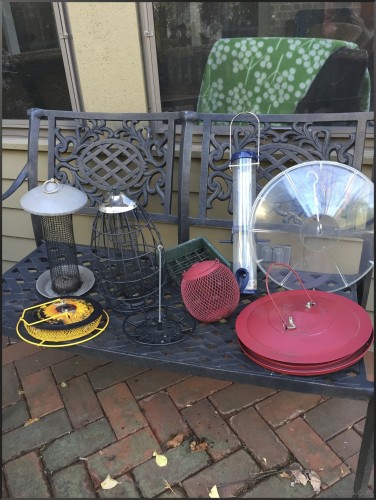 I wiped down the wire feeders and scrubbed out the tube feeders with a long handled brush using a dilute bleach solution (1 part bleach:9 parts water and rinse thoroughly).  While checking the feeders, I did notice some issues with a couple.  The squirrels had chewed a hole in the peanut feeder.  Right through the wire mesh.
So I ordered a new Perky Pet Sunflower and Peanut Feeder  that is supposed to be super strong against chewing squirrels.  Seems pretty solid to me.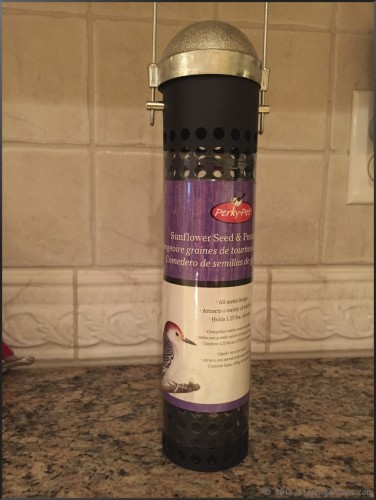 The squirrels have also chewed away at the No/No Cardinal Feeder, but other than making it a little oddly shaped, haven't made any holes.  The cardinals don't seem to mind.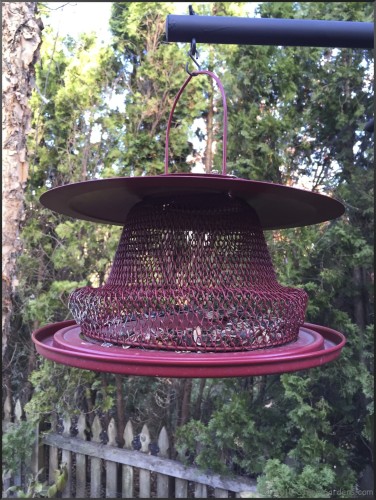 The seed bins were full and ready, too.  Although, I did notice that I am out of shelled peanuts so I need to make another trip to the feed store.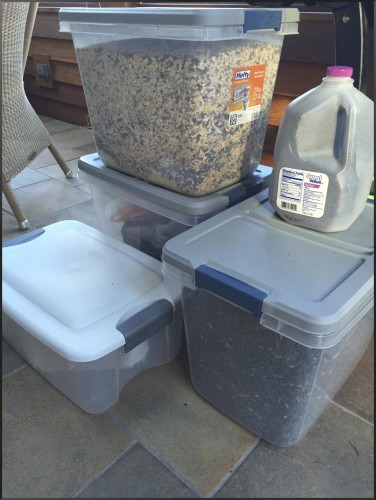 Here's some of my favorite feeder "scoops" and funnels.  This small investment has made the process of filling the feeders a lot easier and less messy.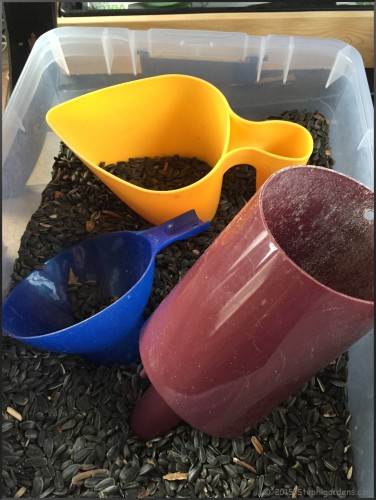 All finished and ready for winter!  If you know anything about our current winter here in Chicago, you know that this "finished" picture was taken a few weeks ago during the one snowfall we've had so far.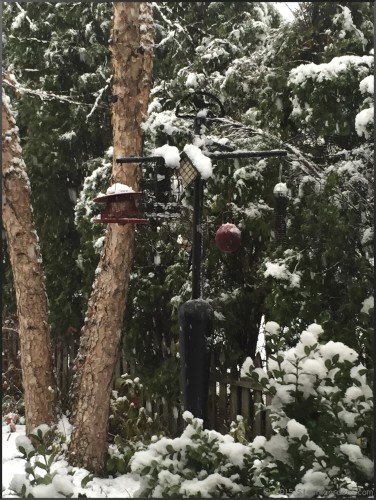 Then in addition to the usual birds that arrived almost immediately–chickadees, nuthatches, juncos, cardinals, goldfinches, downy woodpeckers–I had an extra special visitor at my Snowman Feeder.  A Northern Flicker!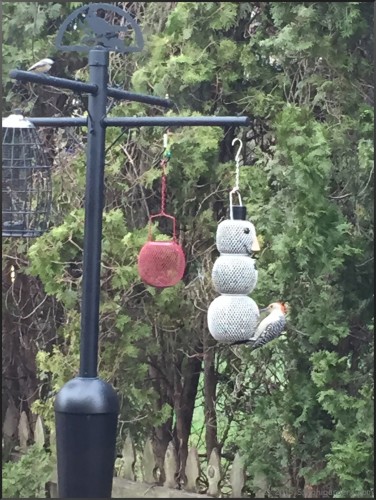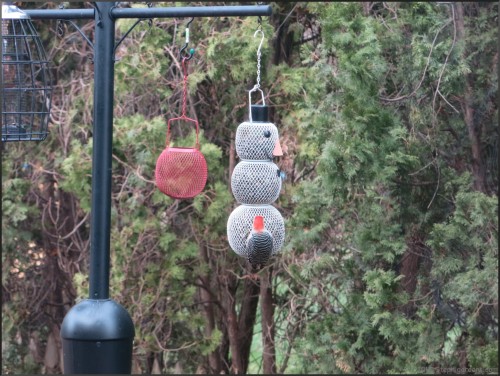 What's your favorite feeder?  Any interesting birds in your yard this winter?