I've been away from blogging for a few days while my husband and I took a wonderful quick trip to Charleston, SC.  As I mentioned in my Kiawah blog (and also the one on Kiawah dining), we've flown to the Charleston airport numerous times with the family to go right out to the beach, but never made a side trip to Charleston.  I am currently writing up that trip for a "Travel to Charleston" post, but in the meantime there were some interesting gardening ideas that I thought I'd write about.
The first is about Coleus.  Seems an odd choice, but I have become quite a fan of this fairly simple and common plant.  I remember back in the old days, we used to have them as indoor houseplants.  As long as they got some sunlight, kept them evenly watered  and kept pinching them, they grew great.  Of course, I did none of those, so I got ugly, leggy plants that I think even got mites or something.
Fast forward to today. I have slowly been using them as annuals in pots around the yard. This year I filled 3 pots that are in dappled shady locations with just coleus seedlings that I picked up cheaply at Home Depot.  I didn't really plan it out very well, other than something needed to go in those pots. But much to my surprise, my husband has remarked on numerous occasions how much he likes those coleus pots that surround his grill area.  They have turned out to be so colorful and interesting, and have been fun to watch as the summer has progressed.  In fact, they still look great as fall colors starts to settle in around them.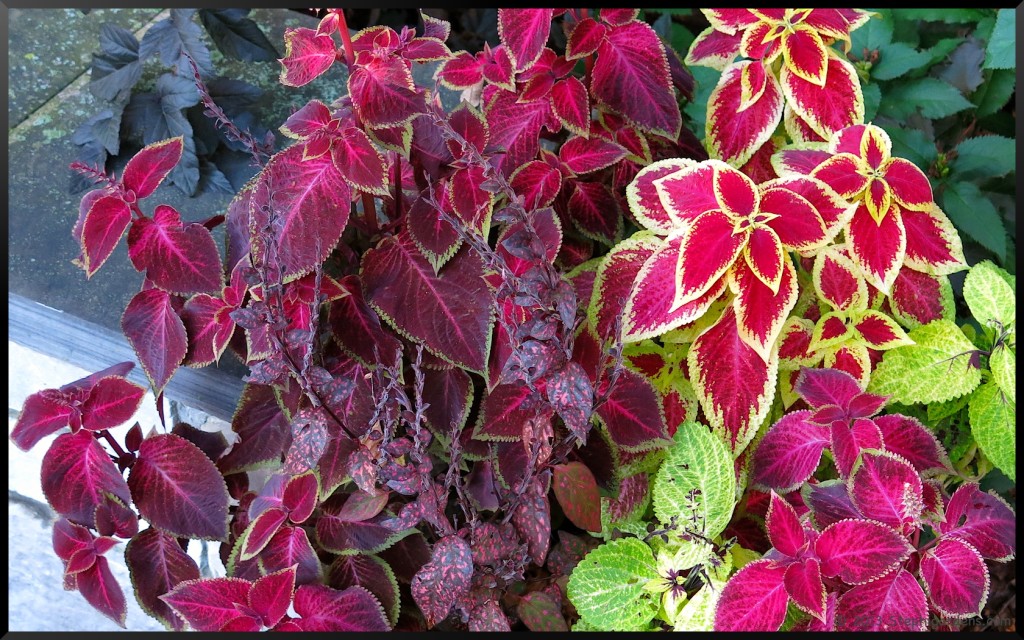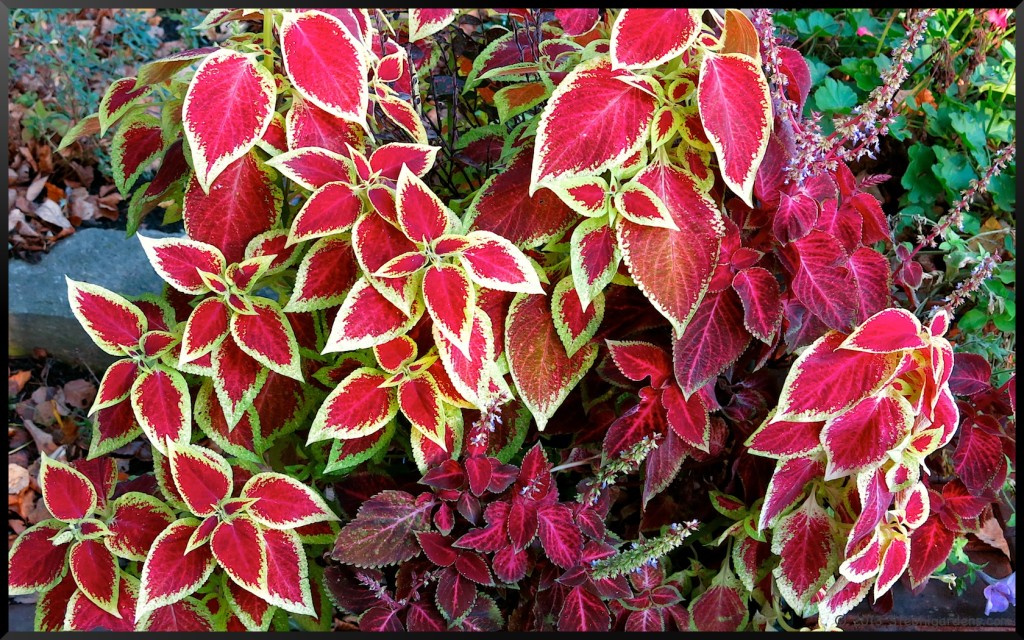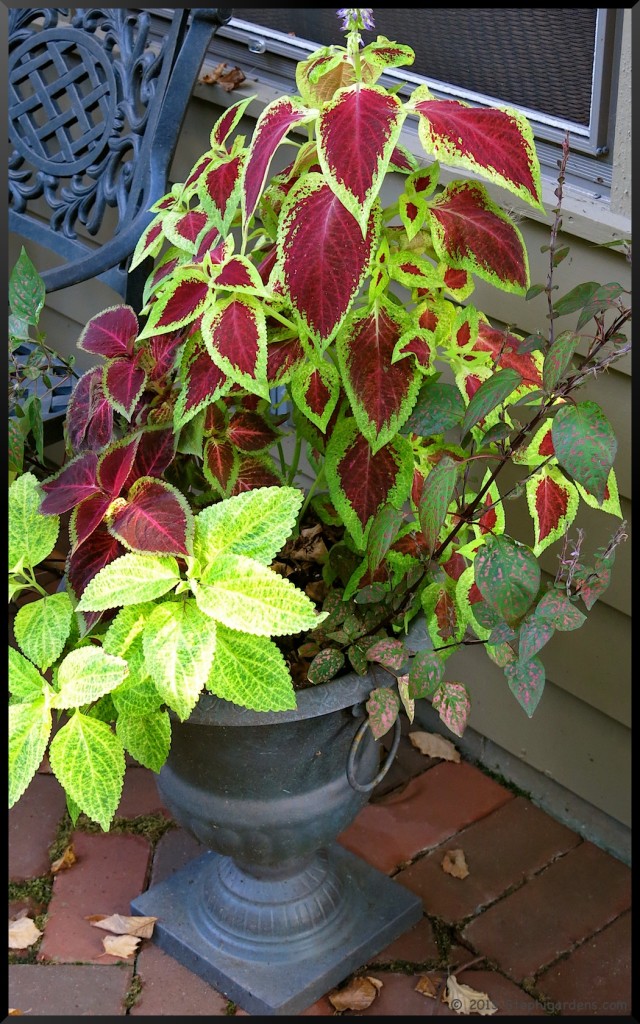 They've been simple to keep looking good.  Keep them watered, they definitely let you know when they need it, and pinch the flower stalks periodically to keep them bushy. At this point I have let them flower and that's added to their prettiness.  I didn't fertilize them much, but I think like any pot plant, it helps.
So how does this relate to Charleston? As we wandered around this very wanderable city, coleus was everywhere. In pots, in window boxes and in gardens. I was so surprised to see it so many places, and I came to realize what a great mixer it was in the garden arrangements, both as a mass of one color, or a colorful mixture of varieties.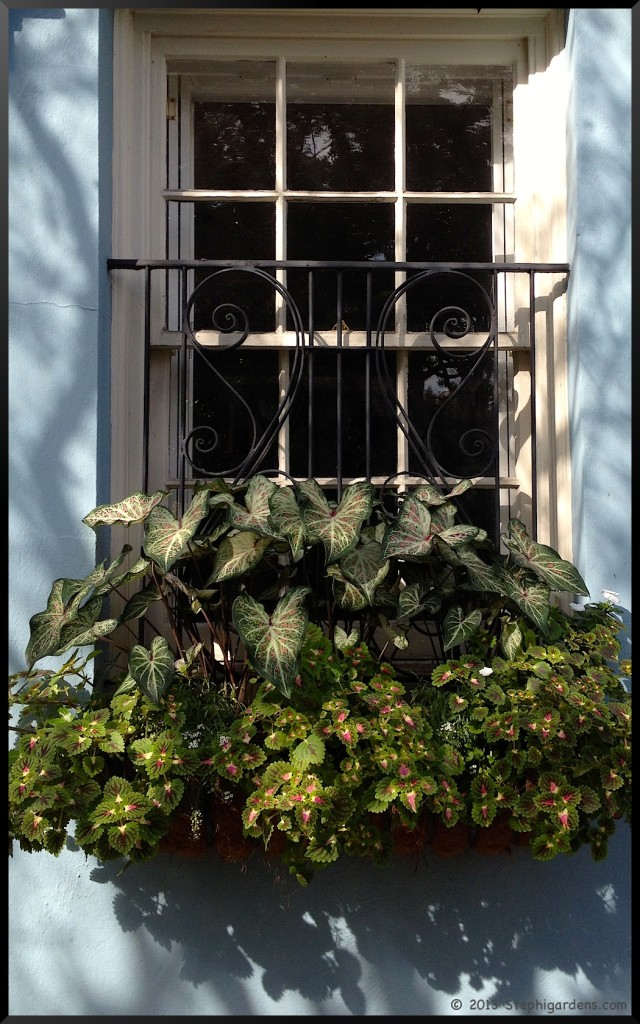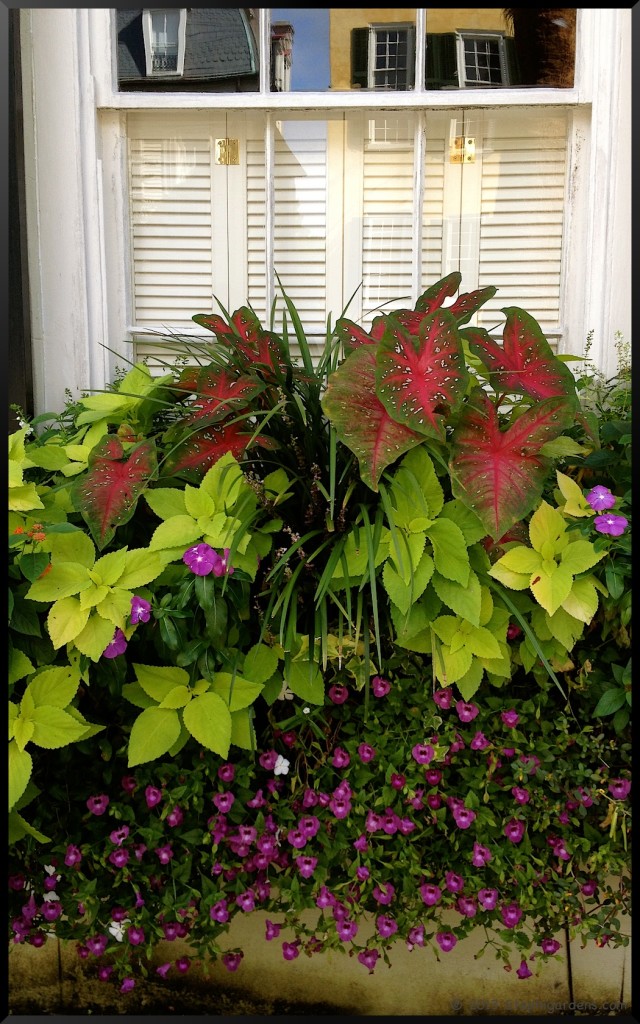 Seeing these beautiful garden spaces has definitely encouraged me to to think about how I can use coleus better in my own garden spaces.   They are so easy to grow and versatile in their uses, I've already been researching varieties and seed sources for next spring.  I will probably grow my own so that I can really plan out the right varieties for the colors, height and sun conditions better.  Unfortunately in Zone 5 where I live, coleus is definitely an annual so it needs to be grown each year or plant cuttings overwintered indoors.  If I can find a location to overwinter a few, I might do that.  But I better hurry, it's getting close to that first frost here.
So if you're looking for ideas as to how to grow and use coleus in your garden, check out these sites that I've started collecting for next spring. Does anyone have any more recommendations or ideas? Do you have coleus in your garden?
Southern Living-Colorful Coleus
Fine Gardening-Designing with Coleus
Fine Gardening-Sizing up Coleus
Tribtoday.com-Start Coleus Seeds Now for Spring
 Swallowtail Gardens Seeds
Burpee Seeds