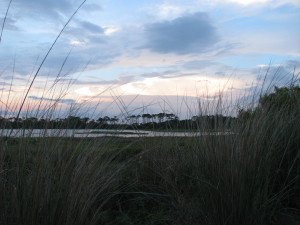 Kiawah Island SC is by far one of our most favorite places to vacation.  This summer was our fifth time visiting and it's a place we never get tired of.  It's one of those special "away" places with tons to do for the whole family.  There's the 10 miles of gorgeous beaches of course, but there's also plenty of top notch golf, tennis, nature activities, biking, kayaking and more.  We've been going with our kids since they were about 8 and 12.  I wish we had discovered it earlier :-(.
Kiawah Island is a barrier island about 15 miles, or about a 30 minute drive, south of Charleston.  It is a gated, private resort island, meaning the crowds are kept down and the island maintains a peaceful, very natural atmosphere.  There's the world-class Sanctuary Hotel, as well as villas and homes for rent.  We've always rented a villa directly from the Kiawah Island Golf Resort, sometimes on the beach (Mariner's Watch, Windswept or Seascape), sometimes just a block off (Windswept Villas).  Either way, there's plenty of access to the beach and bike trails to take you anywhere you want to go.  While there are other rental agencies, renting directly through Kiawah has advantages that we prefer to have, such as access to the pools, the van shuttle service and discounts on golf and tennis.
Food and Dining:  When we first started going to Kiawah, the grocery and dining options were pretty limited.  Thankfully it's become a lot better with the opening of Freshfields Village right outside the gates to Kiawah, which includes the Newton Farms grocery store (a cross between Safeway and Whole Foods).  The East Beach Town Center Market stocks a fair amount of food, wine and beer to get you started, and has a nice selection of take-out or casual dine-in options.  The pizza was a hit this year! Because Kiawah has remained quaint, there aren't the dining options you'd find elsewhere like on Hilton Head. But, there's still plenty of places to get good food and you can't beat the atmosphere in many of them.  There are also a number of specialty dining options, like the Oyster Roast at Mingo Point, Seaside Buffet at the Loggerhead Bar and Grill or the fun family ice cream socials in Night Heron Park.   In a later post I'll go into more detail about the restaurants we've enjoyed (Kiawah Island Dining) .
Activities: Certainly, the beach, golf and tennis are the premier activities on the island. The beach is one of the best we've ever been to. You can bring your own beach set ups, but we fly so we rent our spot for the week. Depending which boardwalk is closest to your rental unit, you can rent those traditional beach umbrellas and chairs either through Kiawah Island Resort, or through Beach Island Services.  Call one or the other and they can tell you who provides the beach set-ups where you want to be.  Either way, it's there for you every day with your name on it and there is an attendant who takes care of the set up, take down and any issues. It's well worth the price. Through the Kiawah Island Nature/Recreation center, you can also take any number of classes, lessons or tours and also rent surf boards, SUP, boogie boards, bocce, etc.  One year we took Stand up Paddle-Board (SUP) lessons from Tidal Trails, one of the few private recreation companies on the island (but read the fine print, some things are available to renters, others only to owners). Tons of fun!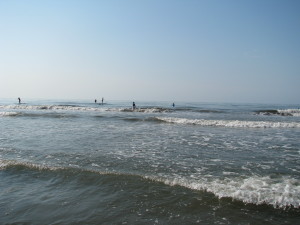 We are not great golfers (except for one of my boys, who is actually quite good), but do enjoy getting out on the Kiawah Island Golf Courses. We've golfed all the public courses (Oak Point, Turtle Point, Cougar and Osprey) in the resort, except the Ocean Course, which is supposed to be exceptional, but just a bit, ok a lot, above our skill level. When the kids were younger we made use of the family tee program that is available to families in the evening. It used to be just one course per night, but it seems like this year all 4 courses took tee times each night.  Starting at 5 pm, for $50 per adult, with kids free, you get to play 9 holes from special forward junior tee placements, a cart and longer tee-off intervals. It allowed us out on these beautiful courses with less pressure, less cost, and overall a more enjoyable experience for the family. When the kids, and us, got a bit better, we've made a lot of use out of the after 2 pm discount rate, with juniors paying half the adult rate. Oak Point is a bit less expensive than the others and worth the short drive off the island. It's best to call the pro shops directly to get a tee time, since they seem better to handle requests like junior rates, 9 holes, etc.  All carts come with plenty of water and tees, and practice time on the driving range is included in the price of your round. The pro shops are all great places for golf gear and Kiawah merchandise.  The golf courses are also the best place for seeing alligators.  Word to the wise, forget about the ball that lands near the ponds!
There are two tennis centers, both very nice, they just hold different programs at each. Pay attention when you sign up for programs as to which center it's held at. We've done the adult-junior round robin every year until this year when the boys aged out. We found it to be good, fun competition. Certainly a variety of levels (of both adults and kids) sign up to play, so if you have any experience at all, definitely do it. I've done a few of the women's drills and found them to be fun as well. The pros have all been very nice and knowledgable. I keep thinking I'm going to do the women's doubles round robin, but keep running out of time. Maybe next year.
This year we did the evening sunset kayak trip and it was just perfect. Not too strenuous, very scenic and we loved going back into the marsh rivers. Even saw some dolphins! In past years we've done a lot of the nature programs like crabbing and ocean seining, etc. Also fun, but can get pricey. There is a new 9 hole Disc golf course in Night Heron Park that is quite popular.  If you don't have your own discs, the Nature Center has them for rent.  Be sure to take a few minutes to go to the Nature Center, great for seeing examples of the wildlife you can find on the island. We've never had our kids in the Camp Kiawah, but the kids look like they are enjoying themselves a lot. If mine had been younger when we were first there, I'm sure we would have signed them up.  We've also not done any of the crafts and leisure programs, but they, too, seem like fun, especially with younger kids.  The kids have had mixed experiences in the evening programs for juniors and teens, and while they seem to draw lot of kids, mine haven't been too interested in going. The pools have been recently renovated and a great kid play area with slides and all the fun amenities was added. Great for a change of pace from the ocean.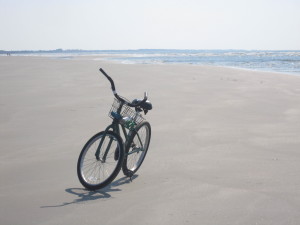 Kiawah is best experienced by bike. There are beach cruiser bike rentals through the resort, which we've always done just to simplify things, but there are others that can can also deliver them to your unit and they do tend to be a bit cheaper in price. Call ahead and the bikes will be dropped off before you arrive and come with a lock (and a basket if requested). Some of our favorite rides are down to the Kiawah River inlet (but if windy very hard to do–we will cheat and ride on paths as far as we can go in the "into the wind" direction and then come back with the wind the full length of the beach.  Also try to do at low tide, the sand is harder and more sand bars to walk out onto down at the inlet). Another favorite is to the Marsh Island Park and Tower. The views are stunning and a great place to see the Painted Bunting, a bird on every birders wish list.
In-shore fishing with guides is another great activity to do.  You can get rentals through Kiawah, Bohickets Marina on Seabrook Island or any number of private charters.  They take you out into the backwaters of Kiawah and Seabrook and you can reliably catch shark, and a variety of seasonal fish.  We've also usually caught a stingray or two.  This year one of my sons also brought his freshwater gear to fish in the ponds on the island.  Be sure to get a salt-water license if you are 16 or over.  He didn't catch a lot, but did get one ugly oyster toadfish from Bass Pond and attracted one very hungry alligator with his popper in the pond behind our villa.
Lots of people take day trips to Charleston, but to be honest, we love Kiawah so much we've never wanted to lose a day at the resort.  A seperate trip Charleston is hopefully in our future soon.
Useful Resources:
I hope you enjoy Kiawah Island as much as we do.  Have you been there?  I'd love to hear what is your favorite things to do!