In a previous post, I talked about all the wonderful things to do on Kiawah Island.  This time, I'll talk about the dining options on the island and nearby.  While Kiawah does not have as many food options as other popular islands such as Hilton Head, it has a unique array of restaurants and cafes that make up for the lack of options. When people think of Kiawah, they first think of the highly rated Ocean Room and Jasmine Porch at the Sanctuary Hotel. Our trips to Kiawah have always been a bit more laid back, so we have not eaten at these restaurants. However, from everything I've read and heard, these are exquisite dining options and should not be missed if they fit in your budget.
When our family visits Kiawah, we stay in a villa with a kitchen that allows us to eat breakfast and lunch at home. Then, we treat ourselves to a dinner out on the town!  Food can be easily bought in a pinch at the Town Market in East Beach. For a more substantial shopping, head to The Village Market by Harris Teeter in Freshfields Village.  They are conveniently open from 6 am-midnight every day, with the deli and hot bar open 8-8.  So no matter when you arrive, you can head over to pick up some supplies.  They have a nice selection of prepared foods such as salads, sandwiches, pizza, dinners and sides and baked goods. There is even a Starbucks inside, so if you're in need of your special coffee drink, you can get one right there.
There are a lot of dining options right on the island ranging from super casual beer and hot dogs at Oak Point clubhouse, to a Four Star restaurant at the Ocean Room. I will review the places we have eaten at.
One of our family favorites is the Ryder Cup Bar located in the Ocean Course clubhouse.  It's well worth the drive for the food, the scenery, and the experience.  It also has one of the best mojitos around.  They don't take reservations, but we never have to wait too long.  And even if you do have to wait, it's a great time to enjoy the pro shop, use the practice putting green and get some great photos.   For appetizers, you can't go wrong with the Warm Carolina Crab Dip, Mussels Diavola or Charcuterie Plate.  We've loved the Fish Taco's, BBQ pork Sliders, Bagger Burger and Shrimp Provencal.  They don't have a traditional children's menu, but our kids have always found something delicious to eat off the menu.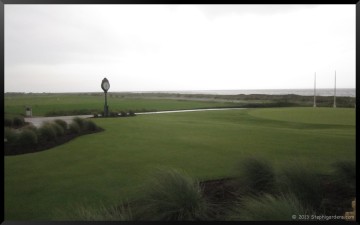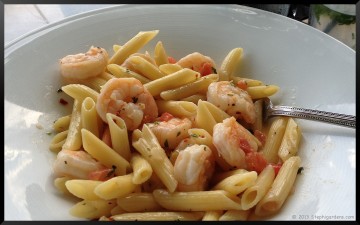 The Cherrywood BBQ & Ale House is another favorite.  It's located at the Osprey Point clubhouse and there really are osprey nesting right in view of the clubhouse.   If you're able to get one of the porch tables (and be lucky enough to be there when the gnats aren't), you also have a good chance of seeing one of the resident alligators.   It is a traditional southern BBQ, so some of the sauces are a bit new to northerners like us.  Nevertheless, we found everything absolutely delicious.  I had the savory brisket, while the rest of the family had the free range chicken, smoked St. Louis Style ribs and the Triple Grind Dinner Burger.  At first glance, that seemed like an awfully expensive hamburger, but my son just kept saying it was the best burger he had ever had!  That was a mighty high compliment, so we all had to try a bit and we all had to agree.  The sides were all tasty, and the beer list is fabulous, too.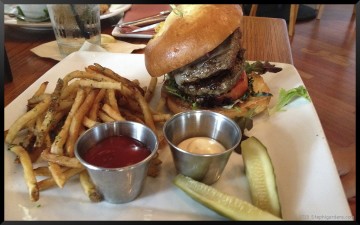 Family Seaside Buffet At Loggerhead Grill is a real treat, weather permitting.  The Loggerhead Grill is poolside at The Sanctuary.  We went a few times when the kids were not yet teenagers and could eat for the child price.  They still ask to go every year, and one of these years we will have to splurge and really treat ourselves.  It has a little bit of everything for the seafood lover, or for the person willing to try new things, as our kids did.  Everything was super fresh and tasty.  There's festive music, great service and a great setting.   Just wonderful to eat poolside at sunset.
The Southern Kitchen is over at Straw Market in West beach.  The location has gone through a few changes.  Back when we first were going it was called Shrimper's, then it was still Shrimper's but with a new menu, and now it is Southern Kitchen with a whole new look and menu.   Southern Kitchen serves breakfast all day from 7-9 and a dinner menu from 11-9.  We went for breakfast on the day we checked out.  They were having some kitchen issues that day that seemed to be throwing everything off a bit, so I'm glad we weren't in a hurry.  From the reaction of the wait staff, this seemed to not be normal.  In any case, the food was worth the wait. Especially delicious was the Wadmalaw Shrinp Omelet with local and very fresh ingredients.  The Praline French Toast totally satisfied one of the boys' breakfast sweet tooth.  But unfortunately, I think the SK Eggs Benedict suffered from the kitchen issues and was not as good as we expected.  Overall, a good way to send us on our way, and we'd give it another try.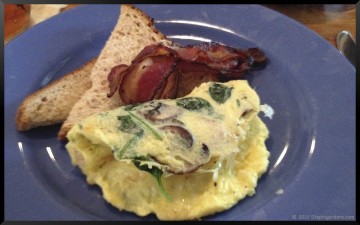 The Market at Town Center turned out to be the place for us this year.  They offer dine-in or take-out items all day from 7 am-9pm.  We had their pizzas the first night after we checked in and they made for a perfect first night meal.  Later in the week, we needed a quick meal before heading out for an evening kayaking trip, so we called in a sandwich order which were just perfect a casual, quick dinner.  Not sure why we didn't make more use of this before, but we'll be back.  They do have a nice dining area if you choose to eat in, rather than taking it back home.  The ordering/paying system is a little confusing, but once you figure it out, it works just fine.
Ice Cream at Beaches and Cream and Inn Side Scoop (which for some reason we just call Scoopers).  Beaches and Cream is located inside The Sanctuary and is a decadent treat, both for the price and its sweet treats.  Inn Side Scoop is located in the Straw Market in West Beach.  They offer a nice selection of ice cream and candy.  It is nice on those hot summer days.
For drinks, The Sanctuary's Lobby Bar is not to be missed. My husband and I try to make it a point to go over at least once a visit for a relaxing drink in an absolutely beautiful, very Southern room. We never tire of walking through the lobby, seeing the stunning and huge low country murals before entering the Lobby Bar. In this oversized parlor, you are surrounded by warm walnut, comfortable furniture, and of course, a view of the gardens and ocean. They have an extensive drink list, but hands-down my favorite is the Mojito.
There are a number of other dining options that we haven't tried, including the Mingo Point Oyster Roast, The Atlantic Room, Tomasso's at Turtle Point and Night Heron Grill.  Maybe next trip.
Off Island Dining
The closest place to find dining off Kiawah island is at Bohicket's Marina, located right between Kiawah and Seabrook islands.  It's a cute market area with shopping, dining and of course, the marina.  Rosebank Farms Cafe and Red's Icehouse are located there.  
The closest place to find dining off Kiawah island is at Bohicket's Marina, located right between Kiawah and Seabrook islands.  It's a cute market area with shopping, dining and of course, the marina.  Red's Icehouse and Nacha Mama's Taqueria are located there.  
We ventured over to Bohickets one night to enjoy the sunset and dinner at the marina.  We went to Red's Icehouse  where the wait time very reasonable.  We just wandered out front and enjoyed the scenery of the river and the marina at sunset.  They have a pretty extensive food and drink menu, evening specials and certainly something for everyone.  It's a fun, festive kind of place and we enjoyed our burgers, fish and chips and tacos (all with a side of shrimp).
A lot of people will venture to Charleston for dinner, but when we're on Kiawah, we stay on Kiawah.  The fabulous places everyone keeps telling me about will have to be visited in a separate trip to Charleston someday.