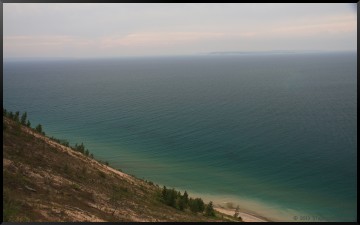 Sleeping Bear Dunes National Lakeshore is one of those places you go to that makes you realize how beautiful and naturally diverse our country is.  On the northwestern shore of Lake Michigan are stunning, glacially formed bluffs that overlook Lake Michigan.  The shoreline is a hilly, varied landscape where you can find rivers, clear lakes, sandy beaches, beech-birch and maple forests and a dune topography that is ever changing.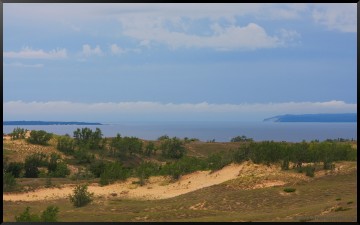 The name, Sleeping Bear, comes from an Indian Legend describing how a mother and her two cubs tried to escape a fire raging in Wisconsin and became what is now the Manitou Islands  and the Sleeping Bear Dune.  If you have younger children, the book, The Legend of the Sleeping Bear by Kathy-jo Wargin and illustrated by Gijsbert van Frankenhuyzen, is a "must-have" before you go or as a souvenir when you're there.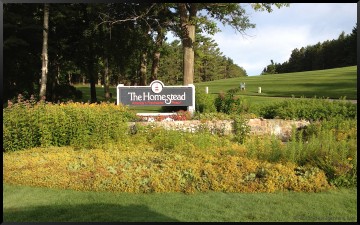 We stayed at the Homestead Resort in Glen Arbor and you can read about our stay and other things to do in the area in my previous post, Family Trip to Glen Arbor, MI/Sleeping Bear Dunes National Lakeshore.  We spent about a day and a half in the National Lakeshore exploring the area.  You could definitely spend more time, as there is so much to explore and enjoy.
First thing to do when you arrive is to visit the Philip Hart Visitor Center on M-72 just East of M-22 in Empire, MI.  As with all National Park visitor centers, it's a great place to get oriented, ask questions or get advice on your visit, and learn more about the area through exhibits.  You can also pick up great wonderful, inexpensive booklets from the Friends of Sleeping Bear Dunes that cover things like Hiking Trails, Common Wildflowers and Birding.
After the Visitors Center, you'll want to head out to the Pierce Stocking Drive.  It's a 7.4 mile scenic drive that takes you to some of the best scenic sites in the park and gives you a great overview of the different forest and dune ecosystems.  It is a seasonal road, so check that it is open when you want to go.  Be sure to pick up your Pierce Stocking Scenic Drive booklet and take it along as you travel to the 12 numbered stops.  Parking can get crowded, so best bet is to go early.  You won't want to miss the #9 Lake Michigan Overlook.  It's probably the most photographed spot in the park.  As tempting as it is to run down the dune, remember that you need to get yourself back up and more than a few need to get rescued from the dune each summer.  It's also been designated a protected area that has been terribly damaged by all the years of climbing, so they're trying to reduce the environmental impact on this fragile ecosystem by suggesting people stay off and just enjoy the beauty.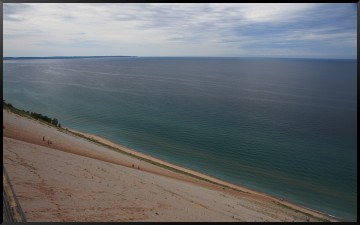 After you've enjoyed the scenic drive, continue traveling north on M-109  to the next stop, the 110 ft. Dune Climb.  This is the place to climb to your heart is content.  Once you've climbed up, you can hang out and be entertained by people watching and enjoying the view, or you can continue onto a fairly strenuous Dunes Hiking Trail that will take you to Lake Michigan.  Be warned, there is no shade or water and the trail is all sand, which makes for difficult walking.  If you've timed it right, this is a great place to have a picnic lunch.  In fact, other than in the towns, there is no food service in the park.  There is a small Camp Store at the Dune Climb, which stocks mostly light snacks, trinkets and souvenirs.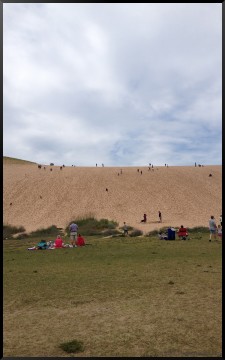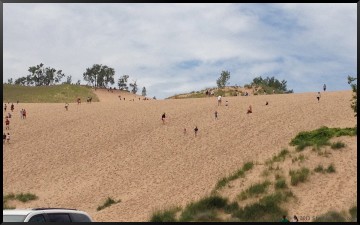 Continuing on M-109, your next destination is the Glen Haven Historical Village.  Hours of the Village Museums and shops vary, so check the Visitor Guide.  Even if things are closed, it's still a great self guided area and worth stopping at.  We found the Cannery Boat and Maritime Museums to be particularly interesting.  It's also a great spot to put your feet in the water and skip some rocks.   This is also the starting point for the strenuous Sleeping Bear Point Trail.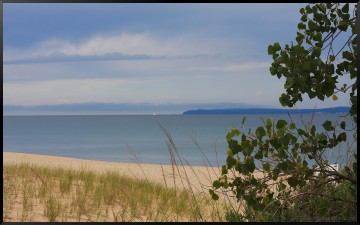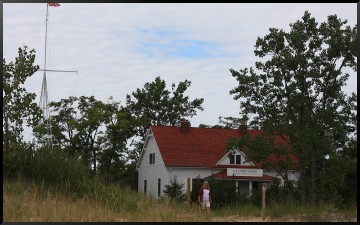 Glen Arbor is the next stop on the tour, and more can be found about there in my previous post about our trip the to the area.
Glen Arbor is also an entry point to the Sleeping Bear Heritage Trail.  It's currently a 4 mile, multi-use paved trail from Glen Arbor to the Dune Climb.  My son used it on our trip for cross country training runs.  But, he had lots of company from bike riders, rollerbladers, walkers and other runners.  The plan is to have an additional 4 miles of trail from the Dune Climb to Empire completed by spring 2014.  When fully completed, the public/privately funded trail will run 27 miles, from the southern edge of the park, north to Good Harbor Bay.
If you haven't had enough of beautiful scenery and have the time, a trip to the more northern Point Oneida Historic District and Pyramid Point area is worth the trip.  You can bike or drive through the back roads of the historic agricultural landscape.  While you're there, be sure to take a quick hike on the moderately difficult Pyramid Point Trail. The views are spectacular.
Two other parts of the park we've been to on other trips are the Platte River District, south of Empire, and the Manitou Islands. In the Platte River area are the Platte and Crystal rivers, which are wonderful for canoeing, kayaking or tubing. The Empire Bluff Hiking Trail is often recommended as the best hike in the Park.  The Manitou Islands are accessible via  Manitou Transit, which leaves out of Leland.  You can visit South Manitou Island for the day, or camp overnight, and see preserved beaches, wildlife, shipwrecks, giant cedars, historic farms and even climb the lighthouse.  Be sure to bring everything you need, as no services are on the island.  North Manitou is even more remote and completely undeveloped.  Trips here require an overnight stay, so great for a backpacking experience.
What else to do?  There's plenty more!  There's beautiful sandy  beaches, trails to hike, campgrounds, Star Parties, roads and trails to bike on, and ranger-led activities to participate in.  There's even plenty to do in the winter.  Check out some of these resources to help plan your trip to this spectacular vacation spot.