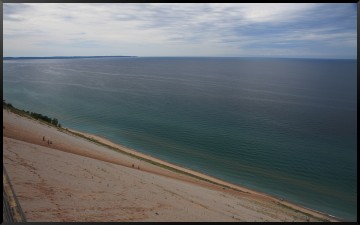 This past summer we took a trip up to the Glen Arbor/Sleeping Bear Dunes area of Michigan with our 2 teenage boys.  I'm always amazed with the beautiful and interesting places we have visited all over the US.  Conveniently for us, this one is practically in our backyard.  Sleeping Bear Dunes NL was even voted "America's Most Beautiful Place" by ABC's Good Morning America.  On this family vacation, we took time to enjoy the scenery, fly fish, golf, hike, shop and relax!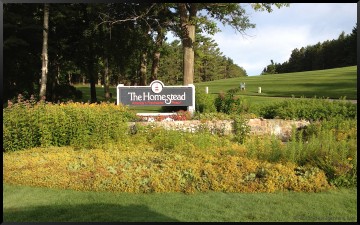 On this trip we stayed at The Homestead: America's Freshwater Resort. We visited the resort many years ago and decided to return on this trip.  There are lots of different types of lodging to choose from; hotel/lodge style rooms and a variety of different condos, villas or homes along the Lake Michigan waterfront or nestled up on the ridges.  We chose to stay in a 2 bedroom townhouse up in the Hawk's Nest section. It's a little off the beaten trail, but nothing is too far away and they have a complimentary shuttle if you don't want to drive (or great if the kids want to do something different).  It was comfortable for the four of us.  We could eat breakfast and lunches in the unit, relax at night, and while we couldn't see the lake, we could hear it and enjoyed watching the wildlife in the woods.  Our unit didn't have wi-fi, so that was an issue for us.  The unit amenities (wi-fi, ac) vary, so call to find out before reserving a space if you want to be sure what yours will have.  Our unit was also a mid-priced "classic" unit, meaning it wasn't the most updated and luxurious, yet definitely not bare bones.  I think that it was accurately described, and was clean, comfortable, decorated nicely, and set beautifully in the ridge high above Lake Michigan.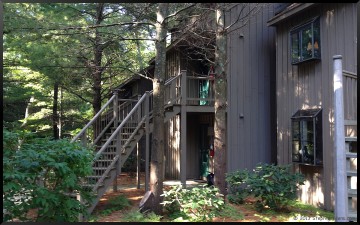 In the summer, the resort has a beach, pool, golf, tennis, a spa, kid's camp, hiking, dining and shopping.
Resort Dining
Since we drove, we either brought food to have breakfast and lunch in the unit, or packed up a picnic lunch to take with us on the days we were out all day. There is a grocery store in Glen Arbor, not more than 10 minutes away, or there's Cavanaugh's, which is a small country store in the resort that carries mostly gourmet type food, snacks and beverages. It also has made to order sandwiches and a coffee shop.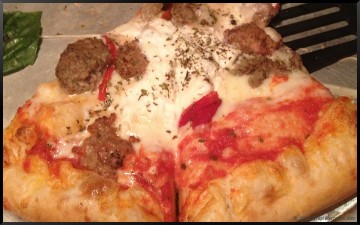 We arrived pretty late the first night, so we headed to the resort's casual sports bar, Beppi's. It's downstairs from their signature restaurant Nonna's. The interior decor is a little lacking, but the food was delicious and the service was great! We loved the pizza and even went back another night to have it again.
We also ate at Cafe Manitou, which is right on the beach by the pool and recreation area. For some reason the indoor dining room was closed, so we ate outside on the patio. Service was spotty and the food was very casual. The Fry-Fecta (trio of potato, sweet potato and zucchini fries) was a definitely a hit.
The scenery was amazing and we weren't in a rush so we were ok. You do need to walk about 10-15 minutes, or take shuttle from the beach/pool parking area, so be sure to take that into account when you make reservations. There is no on-site parking for the restaurant.
We ran out of time to eat at Nonna's or CQ's Cabin, but they seemed popular and inviting.
Dining in the Area
If you wanted to venture about 10 minutes to Glen Arbor, you have a lot of other dining options, ranging from casual to fine-dining.  We were looking for casual so Western Avenue Grill, Art's Tavern, and Boone Docks were recommended.  We chose Boone Dock's after checking out the menus.  We dined indoors since the sun was setting and it was getting chilly.  The huge outdoor patio looked very fun and had a live band that evening.  There is a slightly different menu inside and out, so be sure you are seated in the right area if you have your heart set on something specific.  The menu had a good variety of foods, service was ok, and the food decent.
For coffee, you must go to the Leelanau Coffee Roasting Company in Glen Arbor.  We spent a few mornings there, drinking coffee and having a tasty treat while waiting for one of our sons to complete his morning cross country training run on the Sleeping Bear Heritage Trail (trailhead is on S. Forest Haven Dr.).
For more dining options, check out the other restaurants on MyNorth.com, the Glen Lake Chamber of Commerce or Pure Michigan.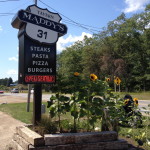 If you venture a bit further, we had a great meal at Maddy's Tavern on US31 near Interlochen MI.  If you're traveling through, or going to the Interlochen Center for the Arts, this is a great choice for a casual yet delicious meal.
Things to Do
There is so much to do in this area, it's no wonder people spend their whole summer (and lives) here. We, unfortunately, only had a few days. You need to pick you favorites and start there. There's golf, fishing, hiking, sight-seeing, quaint shopping, beaches, biking, wine tours and lots more in the area. Something for everyone.  We focused on sight-seeing, fly fishing and golf.
On our first day we wanted to fly fish, but we weren't very familiar with where the best areas to go were. The Homestead is an Orvis Fly Fishing School, so they have teaching ponds and fishing locations there, but for summer trout fishing, you need to head to the Boardman or Upper Manistee Rivers which are about 45-90 minutes away.  Our first stop was to the Streamside Orvis store in Traverse City.  They were tremendously helpful in getting us to the right fishing spots and recommending the right flies to have.   Then it was off to fish after getting some truly delicious donuts at Potter's Bakery on E. 8th Street in Traverse City.  The fishing was fun, the rivers beautiful, and we even caught a few small catch and release trout in the two days we spent on the water.
We spent another whole day in the Sleeping Bear Dunes National Park.  Since that is such a special place, I will write about our time there in its own post.
We did get a chance to get some golf in, both at the Homestead and on a nearby course.  The Homestead's Mountain Flowers Course is a 9-Hole, Par 3 course that winds around the resort, mostly on the ski slopes. It's surprisingly challenging, yet fun for the whole family.  It also has some of the most stunning views you'll find on a golf course. This year, they offered a Family Night on Tuesday's that is worth looking into to bring down the cost.
We also golfed at the Dunes Golf Course on M-72 in Empire, MI.  It's a pretty, casual, friendly course that was perfect for a relaxing round of golf.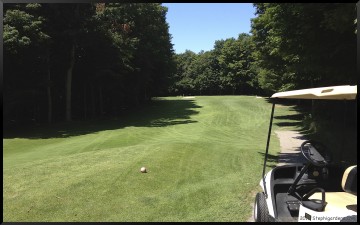 For shopping in the area, you can head to the nearby towns of Glen Arbor, Frankfort, Traverse City, Leland and Suttons Bay.  All have lots of cute boutiques, local specialty shops and galleries.
Hope this helps to plan your next trip to the area.  It really is a special place.  What's your favorite thing to do "Up North"?