I was on my computer around 12:30 this afternoon when everything just kind of rolled and rattled for a few seconds.  I have honestly never felt anything like that before.   Neither did my dog, since she was also startled.  I'm sure to people in earthquake regions this would have been a big yawner, but this is really unusual here in suburban Chicago.   I was on the second floor of my house, so I really felt the sway, with lots of creaking and rattling to go with it.   Was it a giant gust of wind?  Not windy today.  Something big nearby exploded?  No boom, plus I was so puzzled I quickly went outside to check the neighborhood .  Earthquake? Most likely based on what I felt and knew didn't happen.  But, never having felt one, I had no real idea.
I took to Facebook and twitter to see what everyone else had felt and people all over the western suburbs and downtown were reporting the same sensation.  Shortly after, the USGS declared that an M3.7 earthquake centered nearby had occurred.  With further analysis, that was shortly changed to be an M3.2 caused by blasting at a quarry just a few miles east of my house.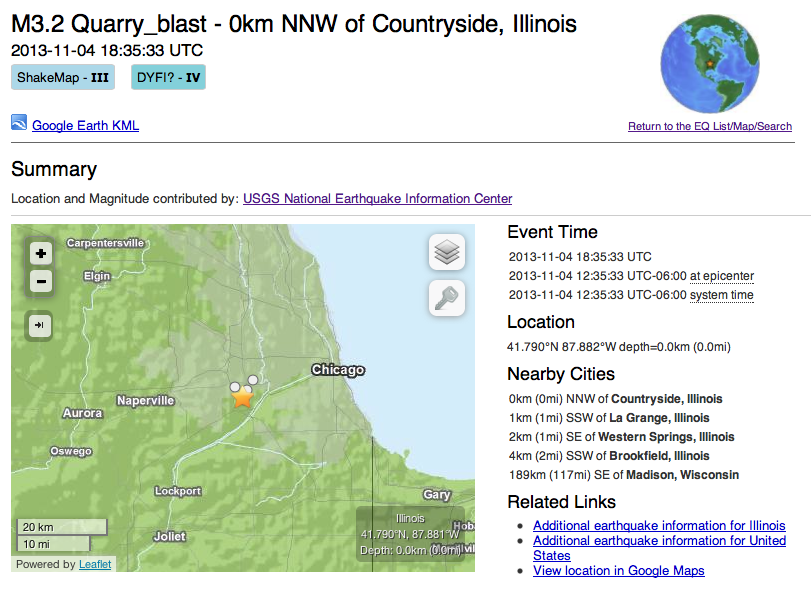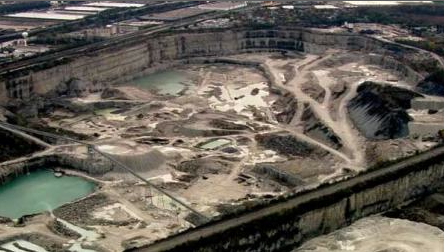 The quarry owners have reported that they were blasting today, but everything was within limits.  There does seem to be some confusion over how many "events" there were, and whether this was a separate event.  In any event, this is a highly unusual and I would hope they are seriously investigating.  I'm not very far away, and it was quite an event here.  I would imagine closer to the quarry, based on what I felt, there must have been damage.
It's interesting that these quarries are so close to downtown Chicago, and basically right in the western suburbs.  They've been working quarries for over 100 years, so neighborhoods have grown up around them.  People in those neighborhoods have grown used to the normal blasts and shocks that occur several times a week.  But, a few years ago, something similar happened resulting in an M2.7 tremor.   This same quarry operator was responsible and the unusually high tremor was reportedly due to "unusual atmospheric conditions"  (see patch.com and wls-abc 7).   Again today, this was definitely something out of the ordinary.  I hope we don't have a pattern developing.
Here's some maps showing how far away this was felt