While we were visiting Kauai, in addition to all the gorgeous Hibiscus there were lots of other interesting plants to see and learn about.  I wish I had more time to go plant exploring, but there was so much to do in so little time.  Here's a little of what we saw.
Uluhe fern (Dicranopteris linearis)

—

This old world fern is widespread across Kauai and other islands.  It is a quick growing, thick and woody fern found on the sloping mountainsides.  It serves an important function to prevent erosion and keep weaker rooted weeds and invasive species to a minimum.  It is also one of the most dangerous plants a hiker can encounter.  It's not at all poisonous, but aside from the the woody stems that will scratch the heck out of anyone trying to bushwhack through it, it's growth habits can give a hiker a false sense of where a cliff side may be.  One step onto what looks like a soft mat of plant growth, can turn out to be a nasty fall down a cliff side.  It's new growth continues to grow on top of any plant, including itself.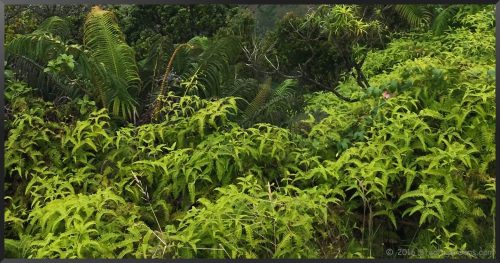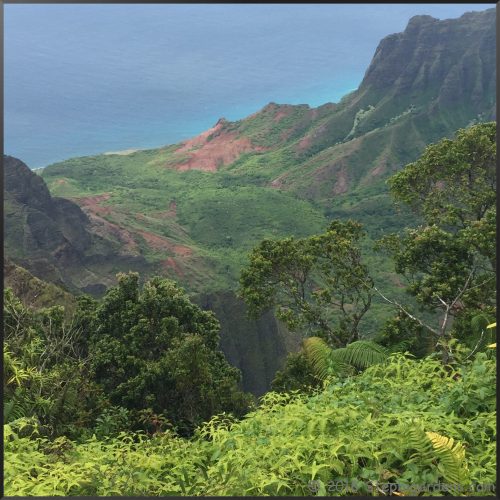 In areas where it's been sheared, it's easy to see all the dead growth underneath.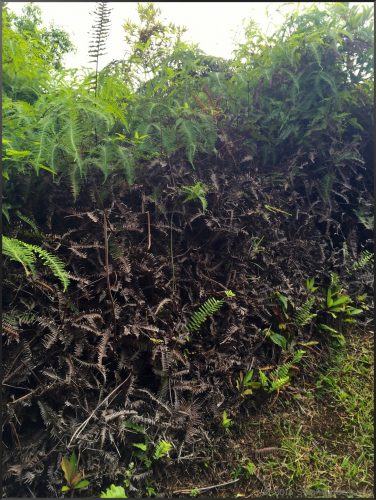 Strawberry Guava (Psidium cattleyanum)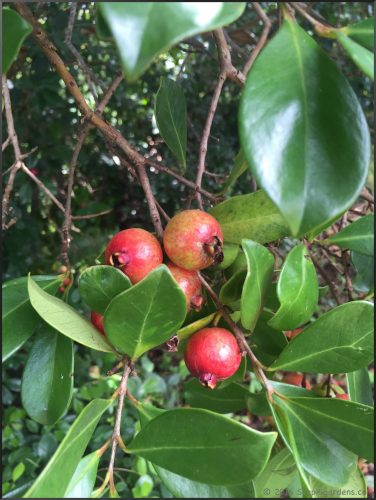 Strawberry guava is native to Brazil and considered a very dangerous invasive species in Hawaii.  Like many invasive species, it interferes with the native ecosystem and is exceedingly hard to eradicate.  On the positive side, the deep, red ripe fruits are edible and can be used for juice, jams, or just a tasty treat on a hike.  I did try a few, but maybe mine weren't quite ripe since I thought they were little tart.
Iliau (Wilkesia gymnoxiphium)
Iliau is an ancient plant only found on Kauai.  We came across it on the Iliau Nature Loop trail, a pretty hiking trail on the scenic drive through the Waimea Canyon.  Even if you only have a few minutes on your drive, this 0.3 mi scenic loop is well worth doing.  Placards along the path describe many of the native plants you'll find in this unique ecosystem.  On the plaque at the beginning of the trail, the trails namesake plant the Iliau, is described as an ancient member of the sunflower family.  It is a monocarpic plant, meaning it will only flower and bear fruit once, then it dies.  It lives an average of 2-10 years, and the spectacular flowers can be seen from May to July.
Since we were there in August, we didn't see any flowers, but the leaf stalks were nonetheless interesting.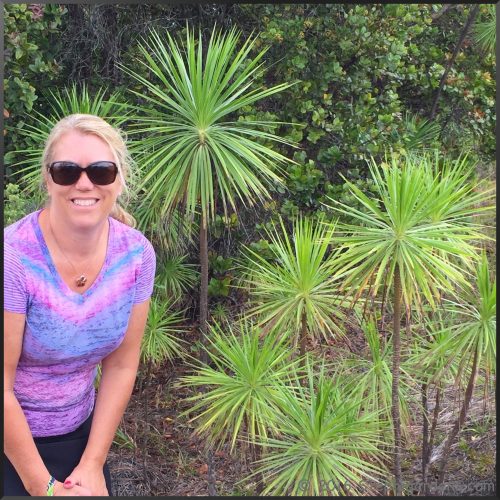 There were also plenty of seed stalks rising up across the horizon.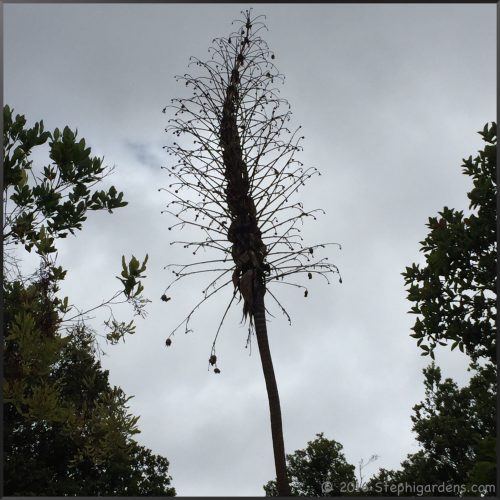 In addition to the plants along the way, the views of the canyon were just breathtaking.  We were lucky to have a relatively clear day.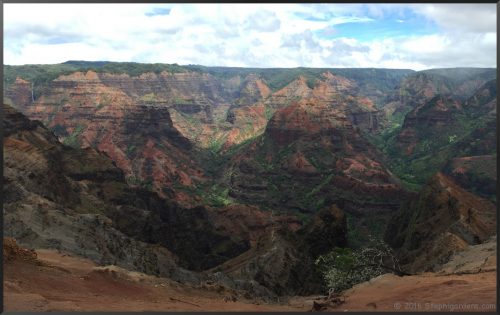 At least depending on the direction you are facing 🙂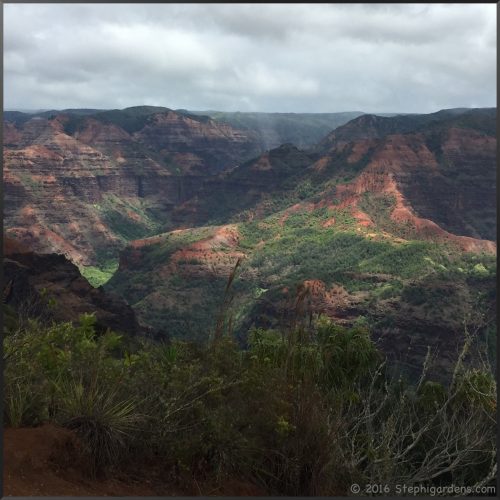 There were also plenty of "tree orchids" to add color just about everywhere.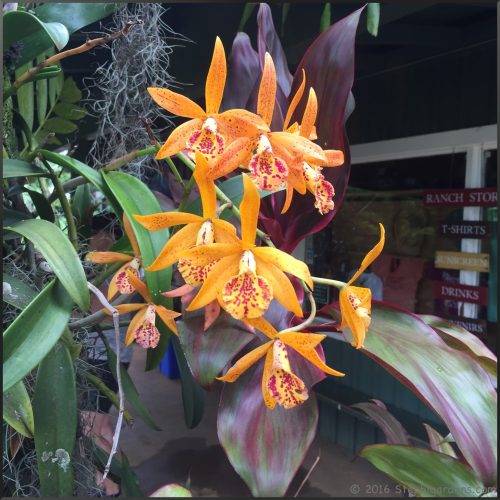 At dinner one night we had enjoyed this window box growing pineapples and crotons.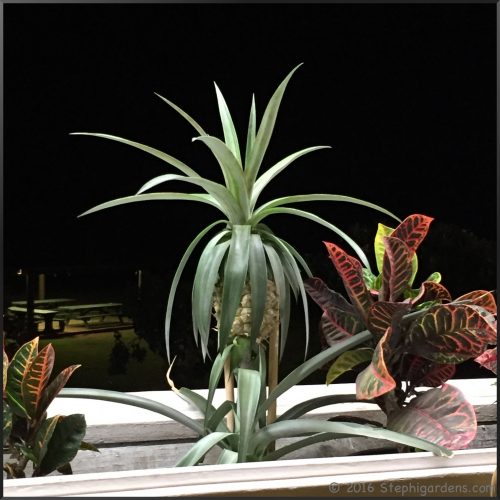 When in Hawaii is there anything better than a real flower lei?   We got to make our own and learn about some of the customs associated with the tradition one afternoon while hanging out at the pool.  Mine was made from the very fragrant plumeria, but unfortunately it didn't stay fresh very long.   Still smelled wonderful anyway.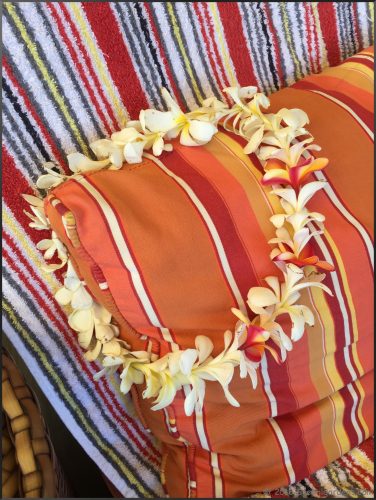 There was plenty more to see and enjoy, but these were some of my favorites and most interesting!