Porcupines are truly odd creatures, and one definitely best watched from afar.  Recently at dusk at our place in Wisconsin, one came to visit that provided an evening of entertainment!
When he realized we were watching, he headed off towards the woods.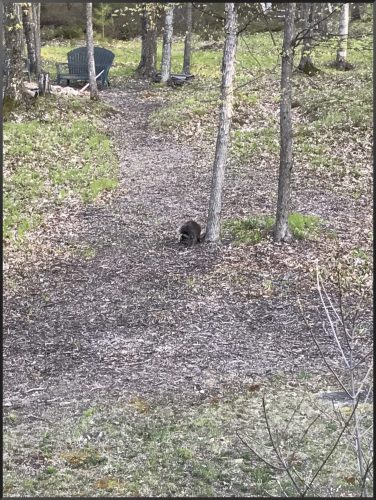 They are not the speediest of animals, but in his own lumbering way he was hurrying.
First he tried to become invisible behind a tree. When we got a little closer he began to climb the tree.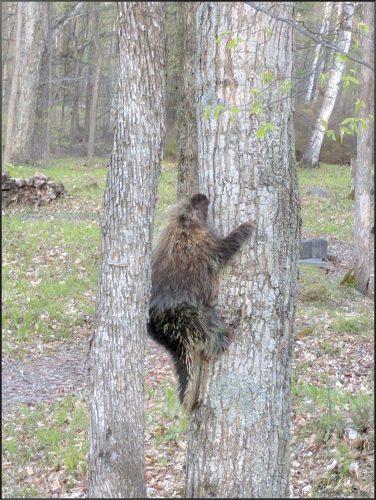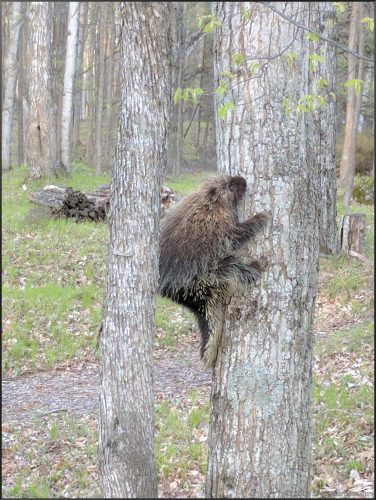 I never really thought about where they lived, but I guess I assumed they lived on the ground.  Maybe a burrowing animal?
But, they are actually quite adept at climbing trees. They have long claws and hairless palms and soles to help them climb. Their strong gripping ability also allows porcupines to stay in trees looking a bit like a koala or sloth, using their forelimbs to reach for tender shoots.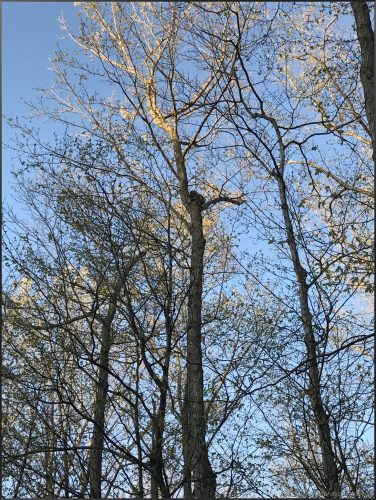 He just kept going…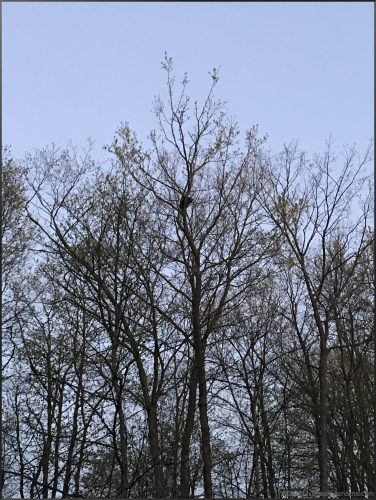 I don't know how he didn't fall!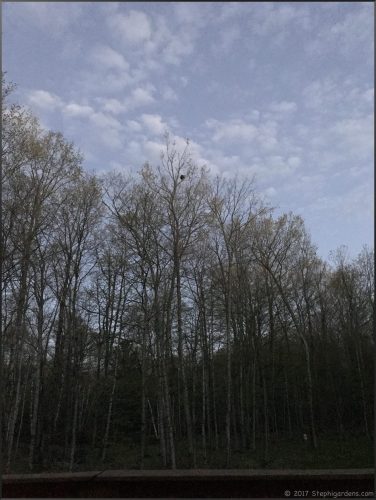 Interesting porcupine facts:
The North American porcupine is a New World Porcupine (Erethizon dorsatum).
Porcupines are the second largest rodent in North America.  The largest is the beaver.
Porcupines don't shoot their barbed quills, but the 30,000 quills are very loosely attached making them come off easily into the skin of an attacker.
Porcupine habitat varies geographically The live in open tundra, deciduous forest, and desert chaparral. Depending on their specific environment, they can vary from spending most of their time on the ground, to areas where they are found mostly in trees.
Porcupines are general herbivores. Their diet varies throughout the year depending on their needs and what is considered edible. They've also been known to kill a tree by feeding too heavily on a single tree in winter.
Porcupines have an antibiotic in its skin protecting itself from infection when it falls out of a tree and gets stuck with its own quills.  Apparently this is a frequent occurrence, since they often go too far out on a limb trying to get those tender spring buds.
A baby porcupine is called a porcupette.
This was actually our second porcupine interaction at our place in Wisconsin. I had gotten up early one morning with Daisy, only to have her run off out of sight. I quickly found her face to face with a porcupine, with a second one a couple of feet away. They did a little dance, nose to nose, nose to tail, but by some miracle no one was quilled. Always an adventure in WI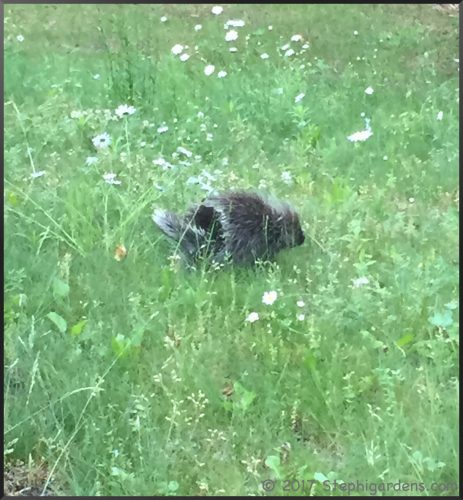 PS Thanks to my son Alex for some of the pictures!