I am forever trying to figure out how much rain we got during a storm. I don't know why, it's just one of those things I want to know. And not in general, like somewhere in the greater Chicago area, or at one of the airports, but in my backyard. have discovered Weatherbug and Weather Underground, but it's still not "my backyard". So, I put a ridiculously over engineered Stratus rain gauge on my wish list and one day it showed up as a birthday gift (thanks Steve!).

It sat in the box for a while, until I figured out where and how I was going to put it up. There's lots of instructions as to how far away from houses, structures and trees it should be, and in a suburban backyard, that can be tricky. So I picked the best spot I could that was not too obtrusive, easy to get to, and sort of fulfilled all the location requirements. Then, I was supposed to attached it to a 4×4 post solidly planted in the ground, but until I was sure it was a good spot, I needed a different way to put it up. I decided trying one of those metal 36″ green fence posts and attached it using zip-ties. Not official, but so far it's working beautifully.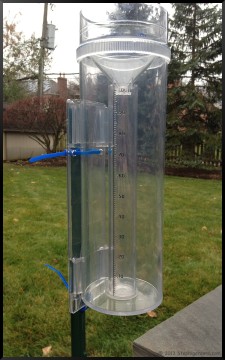 The first weekend I put it in, it was really put to the test. It turned out to be the  really bad weather weekend that led to tornadoes south of here (see previous post, "Ominous Weather"). We got 1.07 inches of rain that day.
When my mom saw a picture of my new rain gauge, she reminded me that my dad had the same one, and had been a weather watcher for CoCoRaHS, the Community Collaborative Rain, Hail and Snow Network. This is a volunteer group that is a "unique, non-profit, community-based network of volunteers of all ages and backgrounds working together to measure and map precipitation (rain, hail and snow)". There's all kinds of great information on their website; well worth checking out. I don't think I'm quite ready to sign up yet, but we'll see in the spring. But, now I know where I got the "need to know" from.
Once I got everything set up, I needed somewhere to log it. Of course, there is an app for that, Rain Log. I decided to record my 24 hr rainfall at 7:30 am, like CoCoRaHS suggests. So, every morning, Daisy and I traipse into the backyard  to see how much rain is in the rain gauge. Here's what my reports look like so far.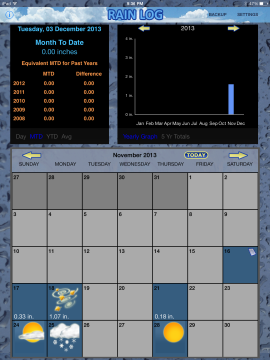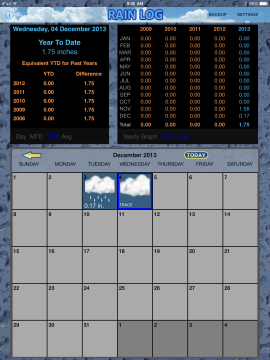 I need to figure out what to do for the winter. There are ways to measure snow, but you need to be careful not to crack the inner measuring tube in freezing temperatures. I may need to just take it inside. Do you measure rainfall in your yard?