The last couple of weeks we have already had what feels like, and may turn out to actually be, a whole winter's worth of weather here in Chicago. The problem is, it's only early January.  I grew up in the snow belt of Buffalo, so I should be used to this. But, over the last 20 years, I've become a bit more used to the weather here. And the weather we've had lately is highly unusual both in low temperatures and snowfall. In some cases even record breaking and we I know we aren't alone!
Storms all seem to be needing a name these days. The Weather Channel has officially named this storm "Ion".  But, really, I find the whole concept of officially naming snowstorms like hurricanes odd.  The US NWS Chicago is using #chiberia to tag photos and comments. That's actually fun since you can easily follow storm reporting from everyone on Facebook and Twitter. Then there's #windchillmageddon. That's my husband Steve's contribution.   Do you have a name to add?  Whatever the case, this has been quite a couple of weather weeks, and I'm sure this will be a stretch of weather we'll all remember.
I finally got all my feeders and seed out there just in time. I wish I had already picked up the heated birdbath my mom is passing on to me since she got a new one. I think the birds could be using some spa time. She says hers is busy all the time.
The feeders are all full.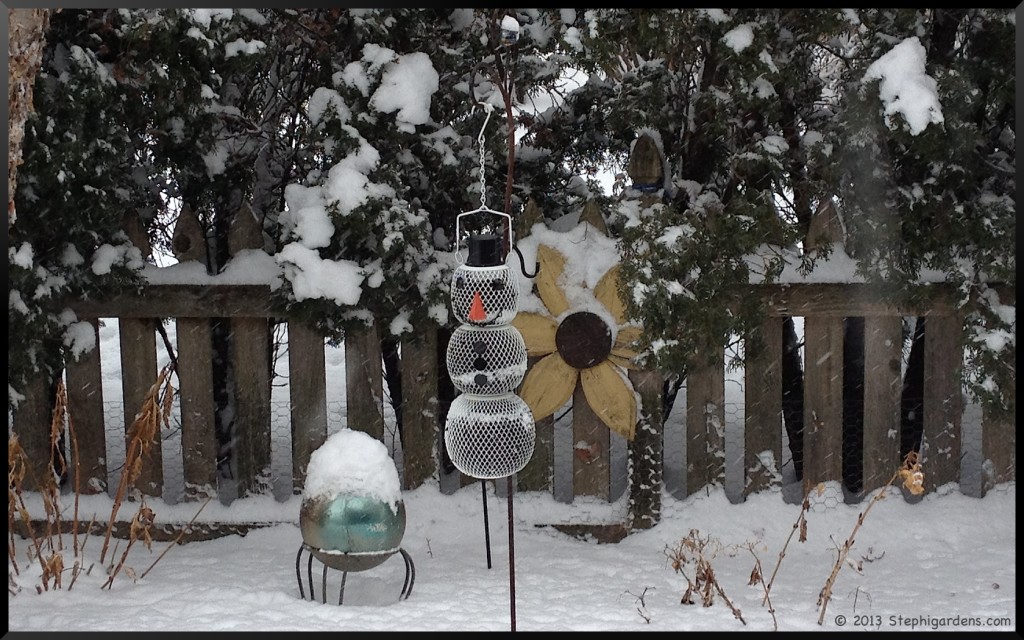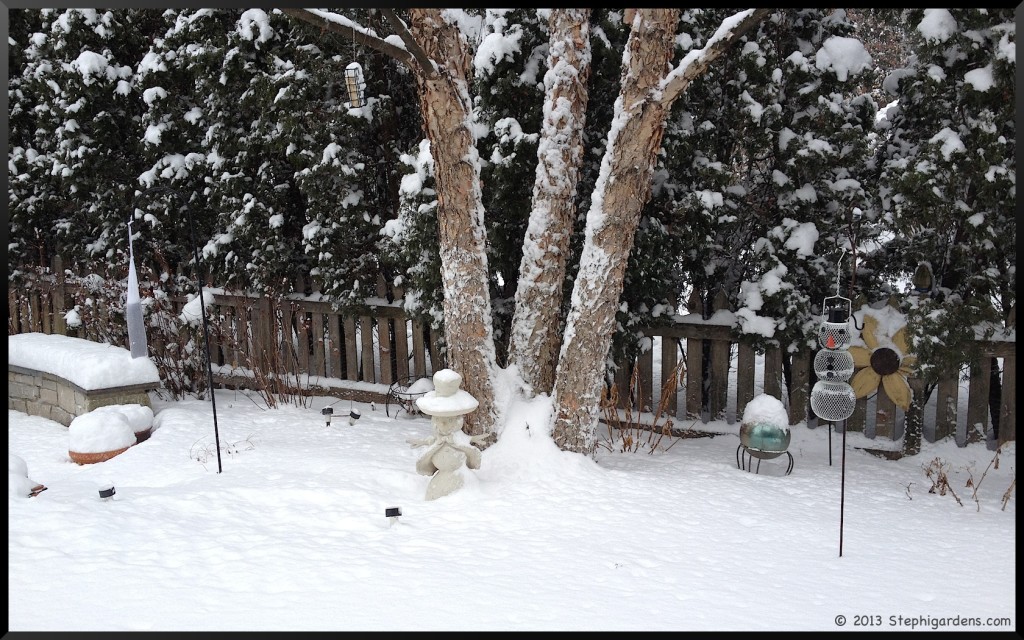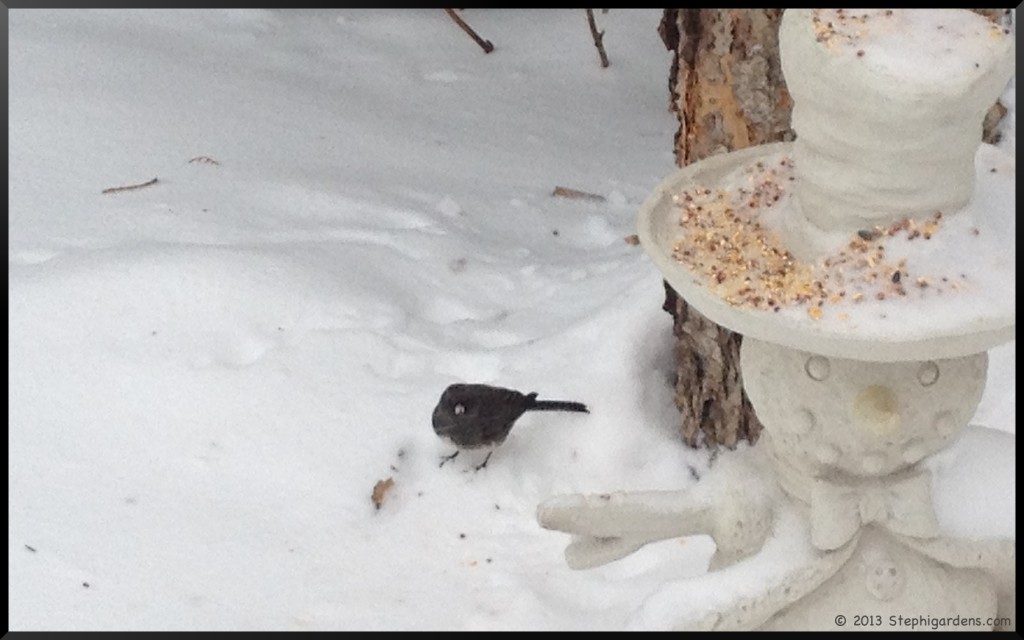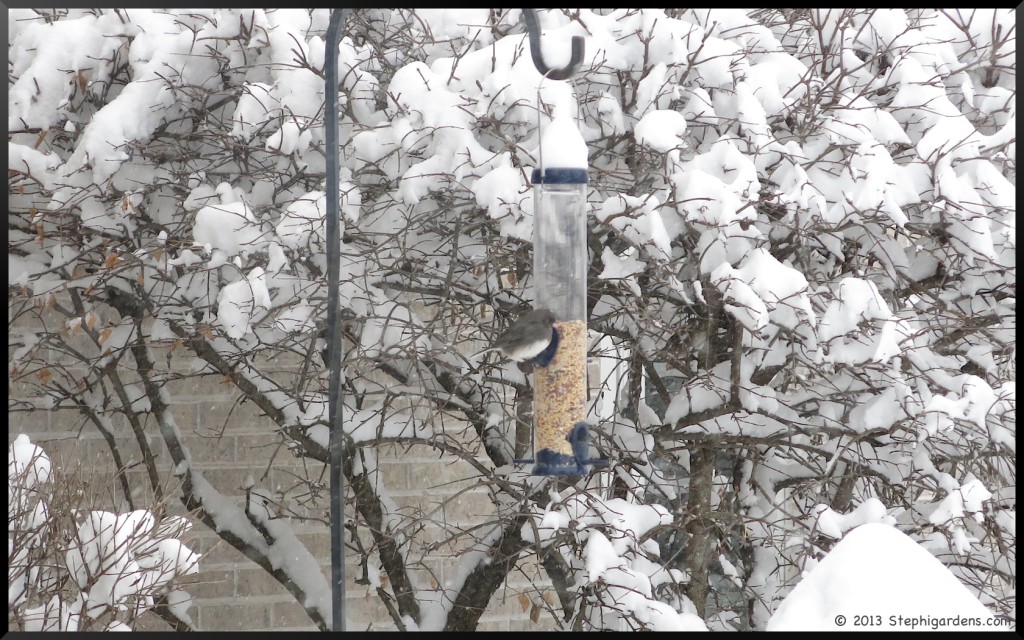 The arborvitae and other shrubs are providing the birds with some winter protection from the snow and wind.  They collect in the shrubs, then pop out to the feeders.  Back and forth all day, until something invisible scares them off for a bit.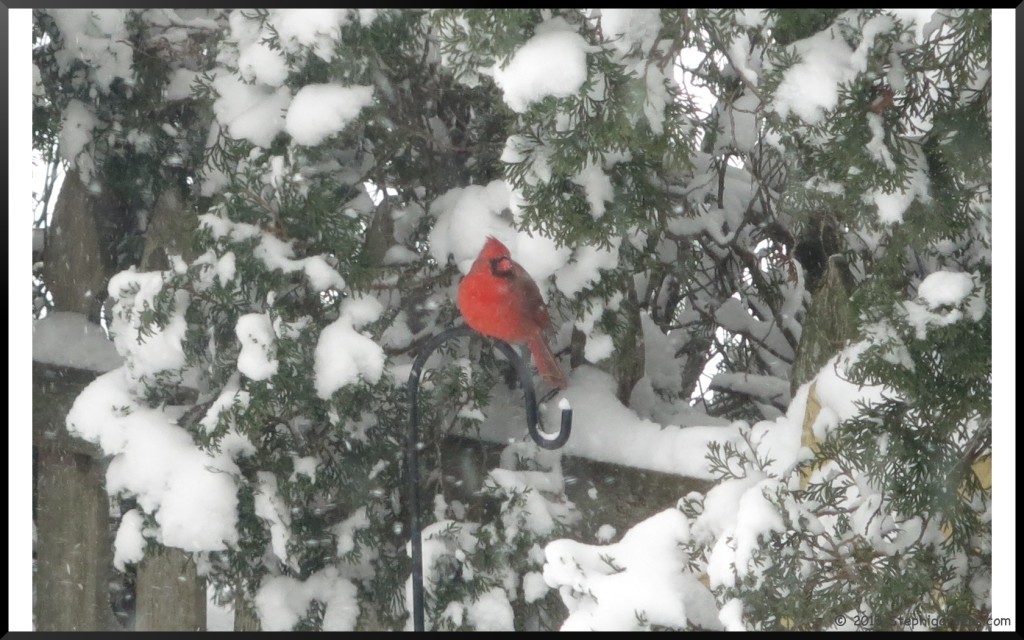 Daisy spends most of her time outdoors staring at the tree…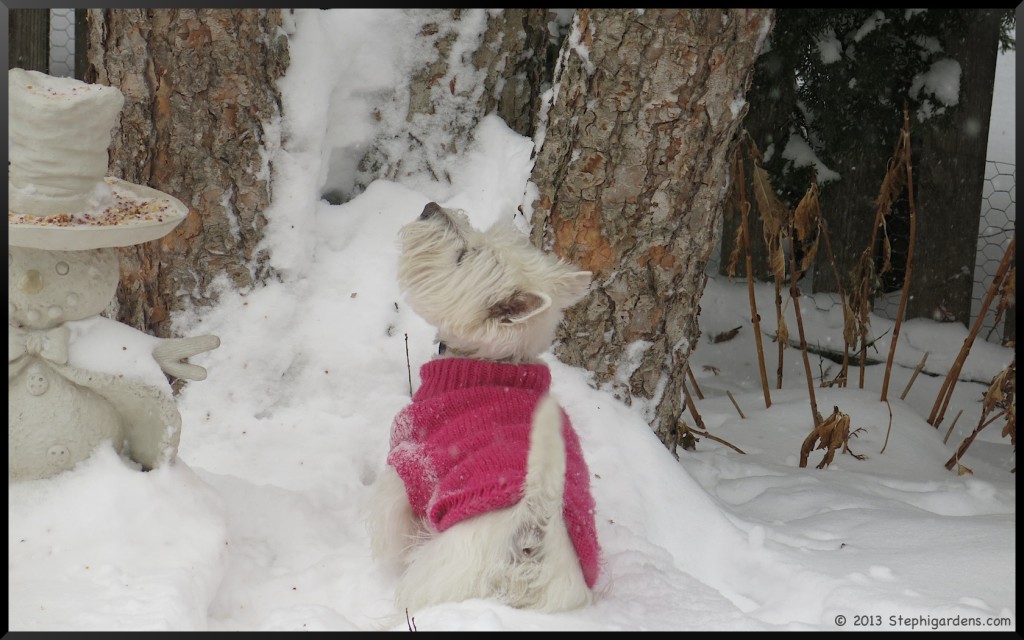 ..and the squirrel quite boldly staring back.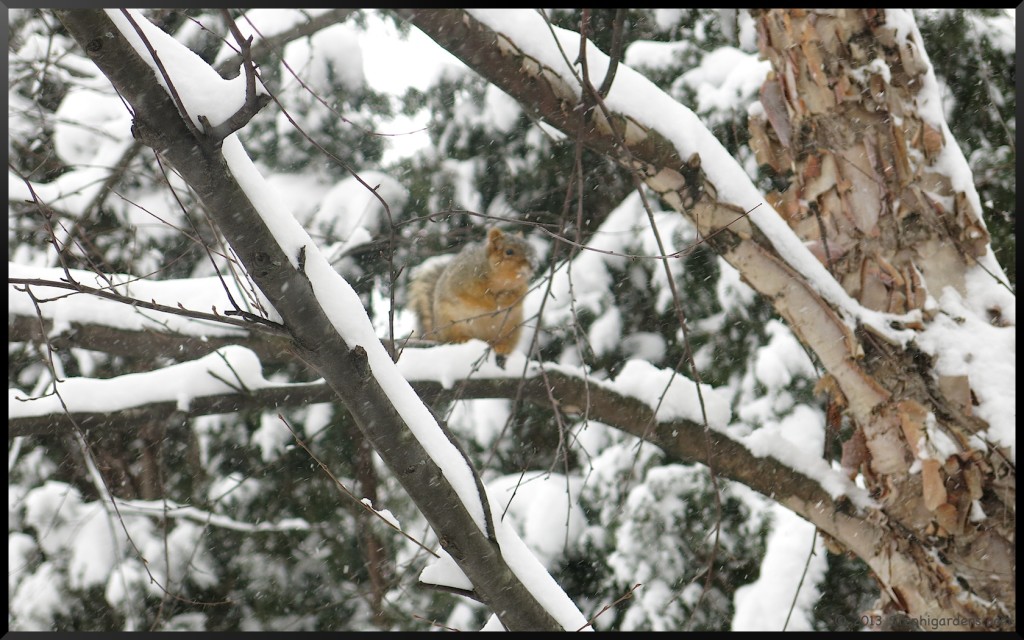 Here's some more storm images from my yard. Doesn't look quite as inviting as in the summertime.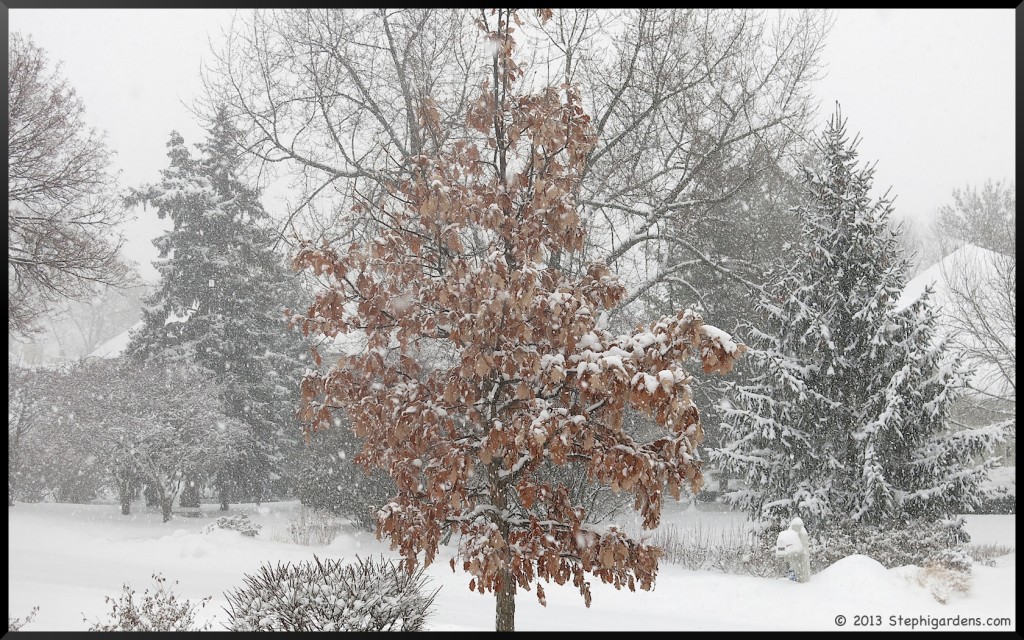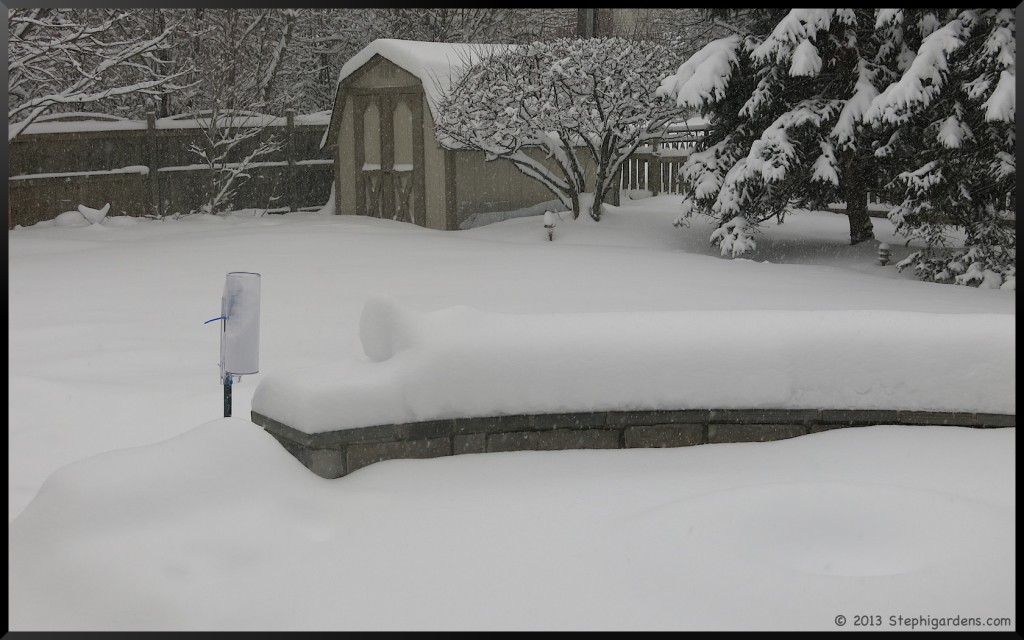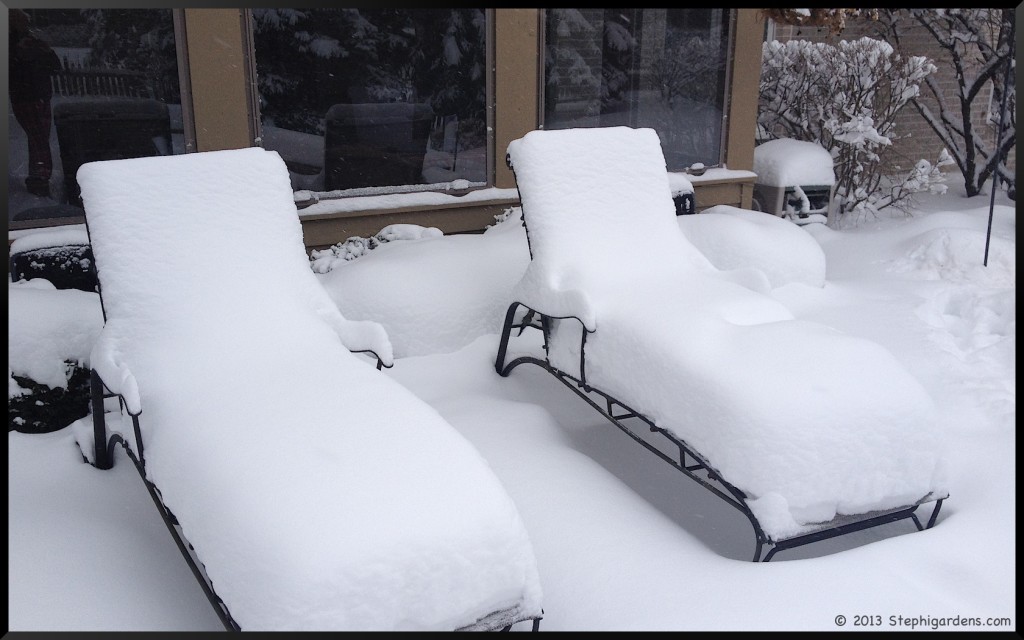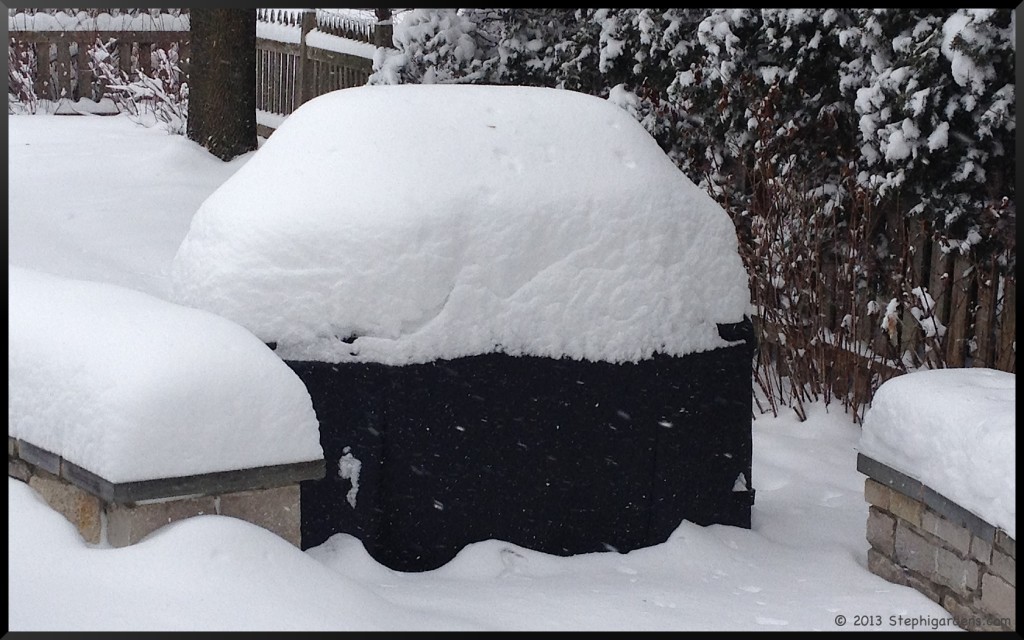 As of Sunday night (1/5/13), we've had about 8.5 inches in the last 24 hours, and about 21 inches since New Year's Eve when this all started. The water content has averaged about 8%, making it nice and fluffy snow. While I am writing this Sunday night, the temperature has just dropped below zero with significantly dangerous wind chills.  It's not expected back above zero for about 34 hours. Brrrr. The kids are getting and extra day off so they are happy. Hope you are all warm and safe!