I've always wanted to attract bluebirds with bluebird houses, but my backyard is not the right habitat.  I'm pretty sure any bluebird nest box I put up would only be filled by house sparrows 🙁  But, our cabin in Wisconsin has a long driveway that seems like the right kind of habitat.  I was inspired to put up the nest boxes after watching a fascinating local PBS show about the Bluebird Restoration of Wisconsin project (BRAW).  It was one of those interesting shows you stumble on when don't have cable.
In Wisconsin, by the 1980's Eastern Bluebirds had declined by almost 90% because of changes in farming, competition from House Sparrows and European Starlings, severe weather in its central and southern winter range, and the loss of nest sites, making them a pretty rare sighting for a long time.  But, through the hard work of BRAW, bluebirds have become a common Wisconsin sighting and now they are worried birders will become complacent and won't continue to provide nesting habitat for them.
Following BRAW's instructions on what a Bluebird nest box should look like, I purchased two Woodlink NABS style bluebird nest boxes and settled using a 6 ft section of electrical conduit as the pole.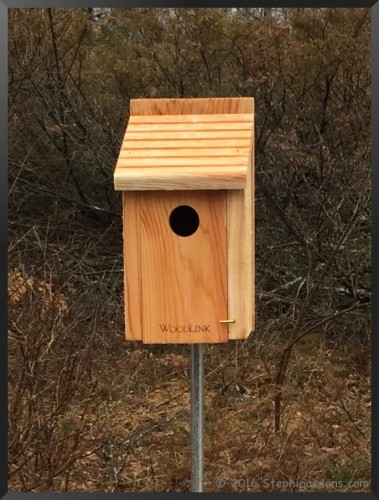 Bluebird houses should have a round opening of 1 1/2 to 1 9/16 in, have a base of 4-5 inches square, and a hole to base height of 4 1/2-6 in. Either the front or top should open to allow for checking and cleaning and the nest boxes should be placed 100-150 yards apart.  These dimensions are optimized to help prevent predators from nesting in the boxes or killing the eggs or nestlings. More detailed information can be found on the BRAWS website or NABS website.
Setting up the Nest Boxes:
First, we loosely attached 2 conduit straps.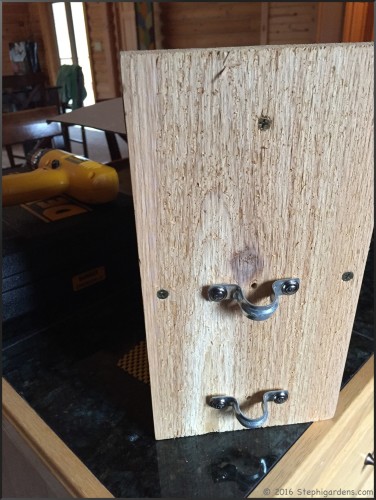 Then we flattened one end of the conduit to make it easier to pound into the ground.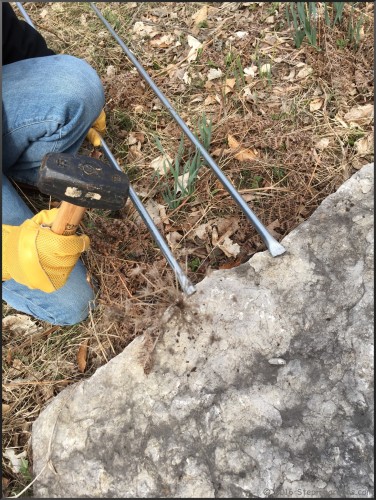 We knew the conduit strap was too loose to just use to mount the nest box, so we improvised and thickened the mounting spots with some duct tape and a piece of wood shim.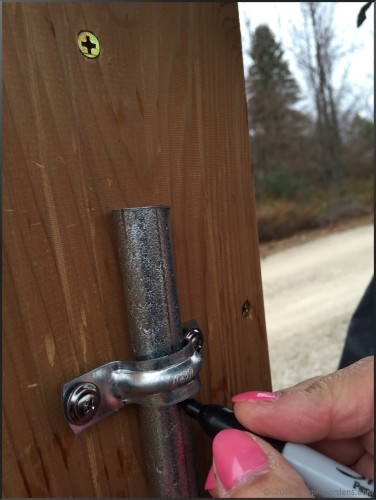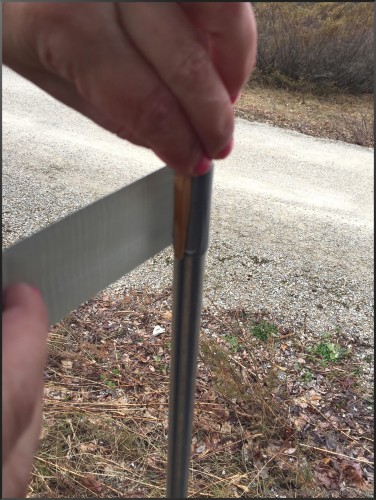 Fasten down the screws tightly.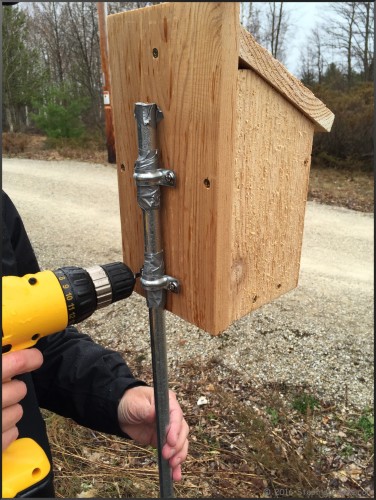 And the nest box is attached!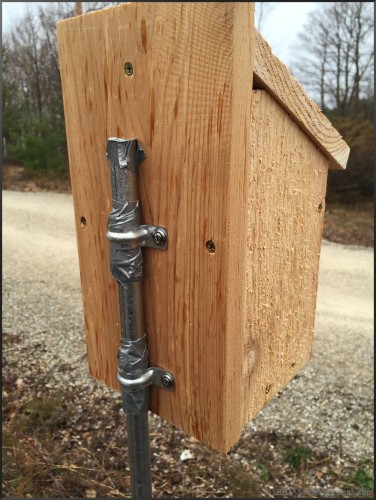 Ready for the birds to come.  I hope I'm not overly optimistic that they'll nest here since I'm not sure the habitat is ideal, but at least I'm giving it a shot.  But, no nest box mean no nests for sure 🙂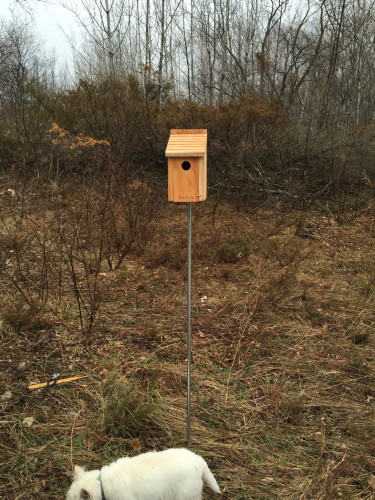 Daisy enjoyed the building trip and something in the bushes caught her eye.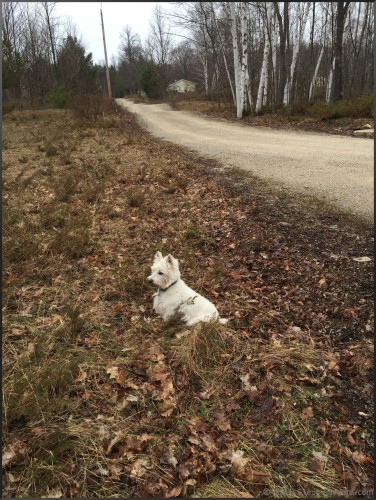 And I have to give credit to Steve for helping me put these up in the miserable spring weather we've had–that day was drizzling and 40°.  It was a bit of a trick to keep everything dry as we were working on it.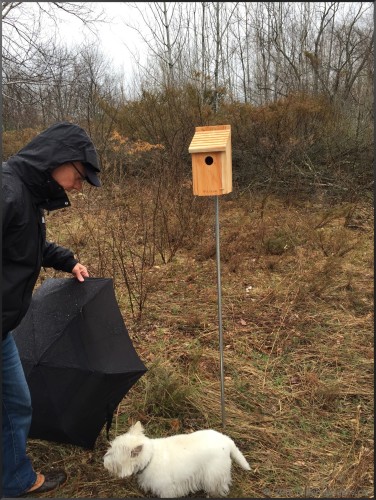 Do you have any bluebirds nesting on your property?
More Eastern Bluebird resources: