I was out riding my bike earlier this week at the Morton Arboretum in Lisle, IL, when I came across a few plants and trees with paper bags on them.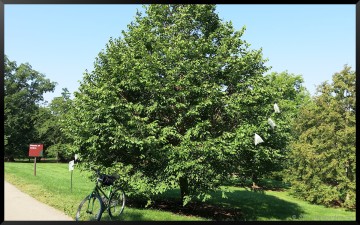 Paperbark Hazelnut
Corylus fargesii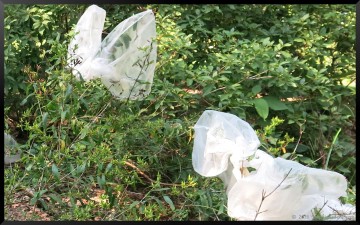 Shrubby St. Johnswort
Hypernicum prolificum
I assumed they were either doing pest control or trapping.   But, because the Arboretum is great about explaining everything, there were signs that I finally stopped to read.
The bags were actually placed on the female flowers of a selected plant that is to become part of the Arboretum's own tree and plant hybridization breeding program, or as part of the Chicagoland Grows consortium plant introduction program.  The other partners in that program are the Chicago Botanic Garden and the Ornamental Growers Association of Northern Illinois  (OGA).  These programs aim to produce new hybrids that are better suited to the local midwest growing conditions, or that are more resistant to newly introduced pests.  The plants then become available commercially and offer homeowners and landscapers dependable plants.  The profits are put back into the program to continue this important work.  You can find these cultivars at these retail nurseries.
So in the future, if you see a Shrubby St. Johnswort or Paperbark Hazelnut (which by the way is a really nice looking tree) being sold under the name "Chicagoland Grows", this plant and tree I saw this week might have been part of the genetic mix that produced it. In the meantime, I am definitely going to check out the cultivars that have already been introduced at my local nursery.