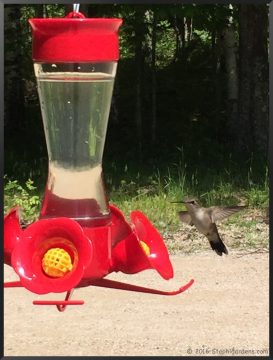 Once you've filled your yard with pollinator friendly plants and a hummingbird feeder, you need to make some nectar to put in the feeder.  It couldn't be easier!
Recipe: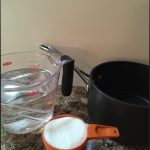 1 part granulated sugar
4 parts water
Bring to a boil and boil for 2 min (longer can make it too concentrated).
Cool before filling feeder.
So for example, you want to make just enough to fill the feeder, use 1/4 cup sugar and 1 cup water.
To make enough to store for a week or so, use 1 cup sugar and 4 cups of water. Store leftover in the refrigerator.
Things to remember:
Change the food every 2-3 days, sooner if it appears cloudy.
Boiled and cooled nectar can be stored 1-2 weeks in the refrigerator.  If it begins to appear cloudy, or develops brown spots on the container, toss it.  It's either fermenting or growing mold and will be harmful to the hummingbirds.
No need to add red dye.  Red on the feeder is enough to attract them and the dye may be harmful.
Never use honey, brown sugar or artificial sweeteners. Honey and brown sugar are not able to be digested properly and honey can be toxic. Hummingbirds are never on a diet, so they need the energy provided by real sugar.
Keep the feeder clean. Buy a bottle bush and scrub it out each time you refill the feeder.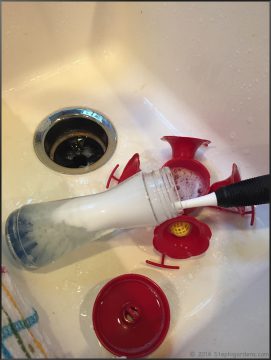 It may take a little while for these fun little friends to find your feeder, but when they do, they will be back as long as you provide them fresh food.  Seeing that they feed every 10-15 minutes to keep up with their calorie needs, they'll be back a lot!