I know you're supposed to drink a lot of water throughout the day, but I'm just not a big fan. I'd much rather have iced tea.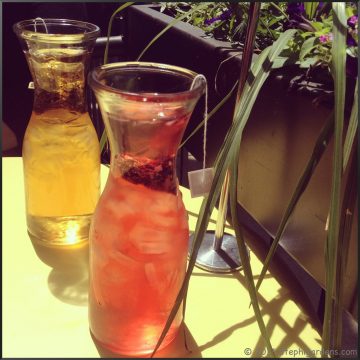 But, I know I need to drink more water. So what to do?? I finally found that creating a seemingly endless combination of fruit, herbs and vegetable infused water did the trick.
Using a pitcher specially designed to hold the fruit in an infusion rod, it's easy to make, keep fresh, refill and clean. I really like the Prodyne Fruit Infusion Flavor Pitcher.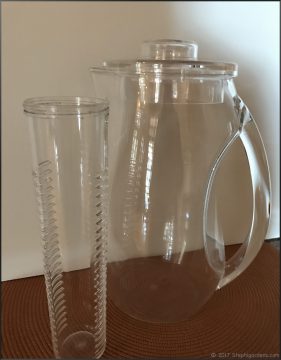 It's a BPA free, clear acrylic pitcher that has a slotted, removable rod that can be filled with your favorite flavors. Since the pitcher is not dishwasher safe, I found the OXO Good Grips Bottle Brush perfect for cleaning the pitcher and tube. Also, since you're trying to be your healthiest it's a good idea to use filtered water. A Brita filter pitcher is useful to have around to keep fresh, filtered water handy.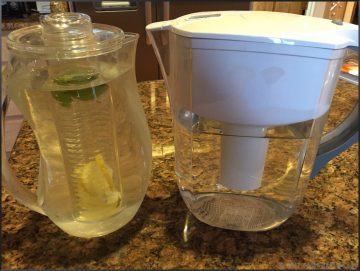 Along with the taste benefits, infused water can provided lots of health benefits! Here's just a few of the reasons to drink infused water.
Fruits like lemon, oranges, limes, strawberries, watermelon, pineapple and raspberries are all high in Vitamin C.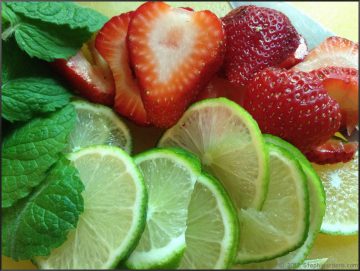 Lemons are alkaline to the body, contain citric acid and can help prevent kidney stones.
Strawberries, raspberries, blackberries, blueberries, limes, ginger, basil, pineapple and cantaloupe have anti-inflammatory properties.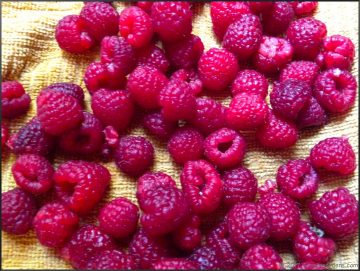 Strawberries, honeydew melon, papaya and cucumber are high in B-complex vitamins.
Strawberries, raspberries, blackberries, blueberries, watermelon, limes, basil, pineapple, cantaloupe are good anti-oxidants.
Raspberries, strawberries and blackberries are anti-aging
Oranges and limes contain calcium for good bone health.  Strawberries and blueberries contain vitamins that are also good for bone health.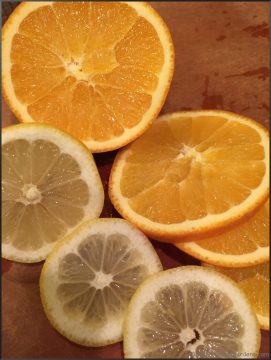 Lemons, limes, cucumbers, ginger and basil aid in digestion.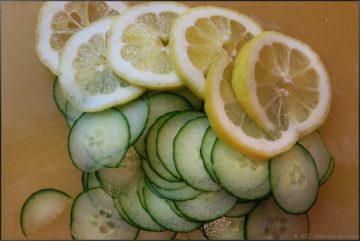 Strawberries, cucumbers, papaya and cantaloupe are high in B-vitamins
Watermelon is high in lycopene to aid in heart health and betacarotene for eye health
All fruits and vegetables will have varying amounts of vitamins, minerals and phytonutrients to provide additional health benefits.
Infused water is simple to make. To a clean infuser rod add your fruit, vegetables, and herbs.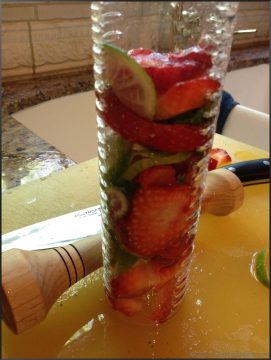 I like to use organic varieties and farm fresh whenever possible. Be sure to wash the fruit thoroughly, remove seeds, peel and slice or cube if necessary.  Attach the infuser rod to the pitcher top and fill pitcher with filtered water.  Depending on the ingredients added, you may want to add less (think lemon or ginger) or more (think berries) to get the right taste.  Similarly, milder flavored berries take longer to infuse than the stronger citrus fruits.
Generally, I can keep the refrigerated infused water a few days IF the ingredients are always covered with water.  Clean and remake after a few days, or whenever it begins to taste too weak or strong, the water gets cloudy, or ingredients don't look fresh any longer.
Looking for recipes?  You can use your imagination and use 1 or more ingredients to make your water.  Some of my favorite combos are strawberry basil, strawberry mint, lemon blueberry, lemon blueberry basil, lemon lime, orange ginger basil and cucumber mint.
There's lots of recipe books out there that can give you even more ideas.  Two of my favorites are Fruit Infused Water: 50 Quick & Easy Recipes for Delicious & Healthy Hydration by Elle Garner and Fruit Infused Water: 98 Delicious Recipes for Your Fruit Infuser Water Pitcher by Susan Marque.
If you don't want to always have a pitcher around, or don't have any more space in your fridge, I have friends who carry their infused water made right in their 24 oz tervis tumbler or specially designed infuser water bottles.
What's your favorite infused water flavor?  I'm always looking for new combos!