My tomatoes have really enjoyed the weather this summer. They've grown like gangbusters and starting to produce some beautiful red fruit.  I planted four varieties this year:
All have lots of green and red fruit on them.  The first Romas have not been very juicy, I think they needed to ripen on the vine a little more.  The Better Boy has a shorter maturity time than Big Boy, and it's had quite a few nice sized ones already.  Big Boy is just getting started.  The cherry tomatoes are really sweet this year, and from the looks of it, I will have a "million" as advertised.  Unfortunately for me, my daughter, who is the biggest cherry tomato fan in the family,  just moved into her own apartment.  She'll be bringing home bags of tomatoes when she comes to visit!
Todays picks are gong to make the perfect BLT's for tonight's dinner.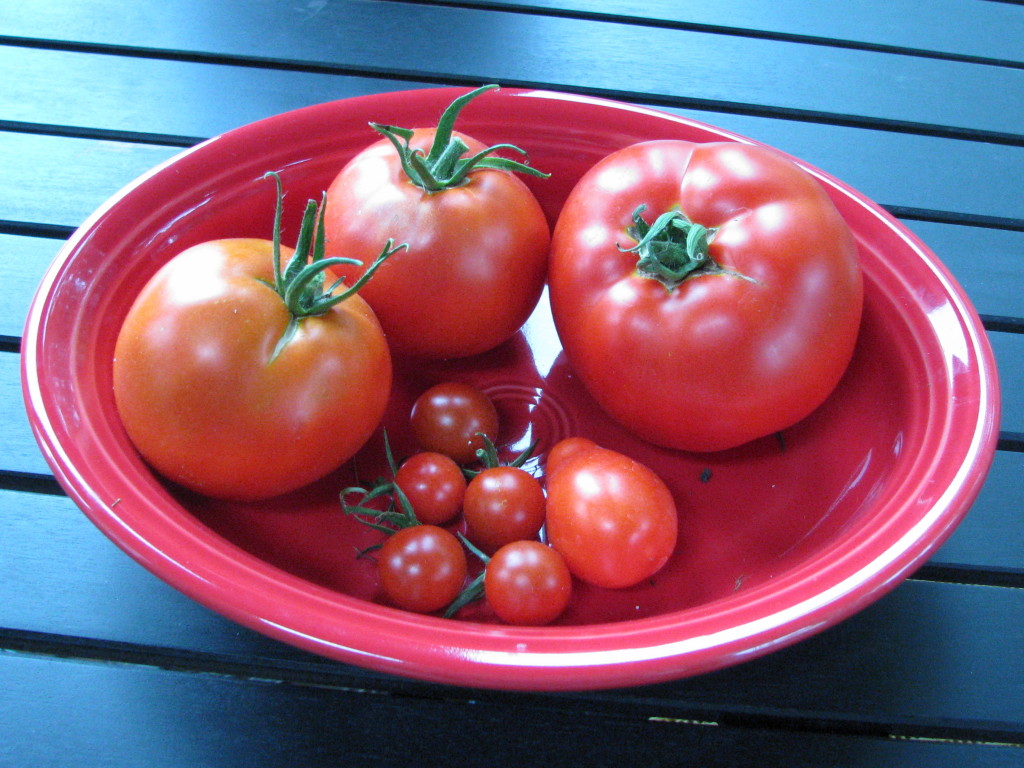 And before you think all is perfect, sometimes things go wrong and you get rotted fruit on the vine.  Best to pick and throw away asap, they'll soon be covered with house flies and fruit flies and just get generally gross.
Does anyone else get a rash and itch terribly after touching tomato vines?  I know I need to come right in and wash my arms as soon as I'm finished.  Sometimes after weeding I get the same problem. I really need to start wearing long sleeves.
You can find more information on the tomatoes I'm growing on this previous blog post page.