Happy New Year and Best Wishes for 2016!  I truly appreciate all who have visited my blog this year.  Here's a look back at some of my most popular posts of 2015!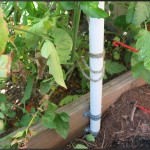 1.   Taming My Tomatoes With A Florida Weave:  My tomatoes were a mess, so I tried something new to try and keep things in order.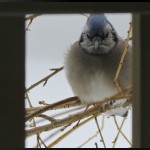 2.    The Blue Jays are Back (and That's Not a Good Thing):  What to do when you have nuisance birds at your feeder?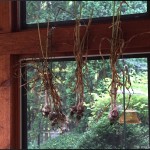 3.  Warding Off The Vampires:  This was my first try at growing garlic.  Easier than I thought and definitely worth the effort.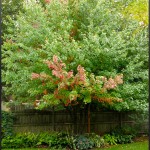 4.  So Long Beautiful Maple Tree:  Sometimes things go terribly wrong with plant.  In this case, construction and cold brought about the demise of our beautiful Freeman Maple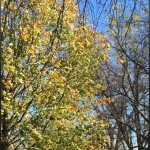 5.  November in Chicago:  This fall was quite an unusual one.  Here in Chicago, the plants were quite confused as to the time of year and it made for an interesting fall.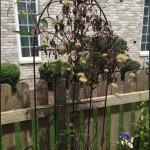 6.  Something's Wrong With the Clematis and Clematis Stem Wilt: An Update to Something's Wrong With The Clematis:  The wet spring affected a lot of plants.  Many of us saw some terrible die back of our clematis due to Clematis Stem Wilt.  Hopefully next spring everything will rebound.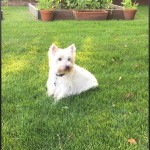 7.  Little White Pepper Thief:  Apparently Westies love peppers.  I didn't get any sweet or hot peppers from my garden this year because of my little thief 🙁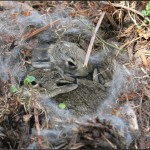 8.  Spring Surprises:  Even when you think you know everything in your garden, you get surprised!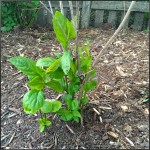 9.  Beautyberry Bushes:  Did They Survive the Winter?  After a winter like we had, I thought I had lost my new bushes.  But, they are one of the last to leaf out in the spring, so I'm glad I was patient.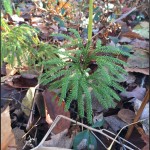 10.  Fall in Northern Michigan/Stumbling Upon Club-Mosses:  This was one of my favorite posts of the year.  Not only was fall in Northern Michigan stunning, my mom and I stumbled onto a forest area full of a club mosses.   Very cool to see and explore.
..and a few of my all-time most popular posts:
Curled Leaves On The Bushes (August 2014)
Creeping Thyme Problems (April 2014) and an update in August, Oops, September Garden Update 
Painting Rock Garden Markers (February 2014)
Pelicans In Illinois (September 2013)
Our Family Christmas Tree (December 2013)
Hope you keep visiting, I have all kinds of ideas to keep everyone in the gardening mood all winter.  
Remember, you can also find Stephi Gardens on Facebook, Instagram, Pinterest and  Twitter.