This was my first attempt at growing cabbage.  I never had the space before, so with the new vegetables beds I thought I would give them a try.  I first tried to grow them from seeds, but with the weird spring we had, like a lot of of my in-ground seeds I planted originally they didn't sprout.  Luckily, I happened upon some organic seedlings at the nursery and planted them.  That worked much better.
The head is forming!
This one is a little small, but ready.  You can't visually tell when it's ready.  A cabbage head is ready when when you give it a squeeze, it feels firm like a baseball.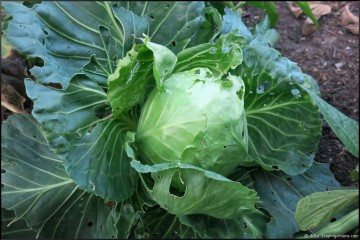 I was able to break the head off the stem, but if it's got a really thick stem, use a knife to cut it off.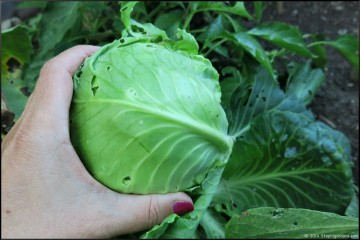 Like everything I had read, cabbage take a fair amount of space.  I think mine were a little too close together, or maybe a little too shady.  I got 4 heads of cabbage, but they are really different in size.  The largest is about the size of a softball, the smallest, a little bigger than a golf ball.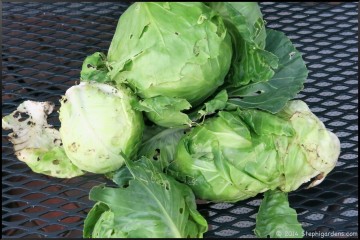 They should have all been the same, but that's the fun of growing your own.  It's rarely perfect.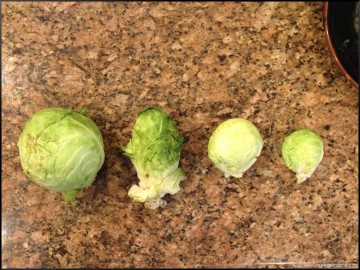 I used my first ever cabbage harvest to make my friend Kathy's Freezer Slaw.   I used my own homegrown green peppers, but I had to buy carrots.  Bad year for carrots, great year for peppers.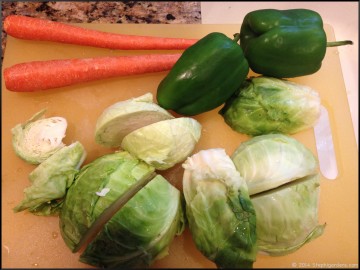 Did you grow anything new this year?  How did it turn out?
Save