I decided to try something new in the garden this fall–garlic.I've been reading about how to grow it, and it seems pretty straightforward.  Hope so! It should be planted in the fall, 6-8 weeks before a hard frost is likely. Unfortunately, that means I'm probably a couple of weeks late when I looked the date up on this useful frost/freeze/hard freeze table on Dave's Garden.
I think the hardest part of growing the garlic was finding a place to plant it. I needed a spot now, that will stay free until mid July when it can be harvested.  (That's part of why I needed to wait until now to plant it.)  I chose 2 locations, one in each of my raised beds where I could pull out existing plants that were pretty much done for the season.  I'm not sure how it will do in either of these locations, but I figure at least one should  be good.
I chose 3 different varieties, 2 hardneck (Chesnok Red and Purple Glazer) and 1 soft neck (California Early) from Botanical Interests.
Softneck varieties tend to grow in a wider variety of climates and can be grown in warmer areas, last longer in storage and are good for braiding.  They also tend to be a little milder in taste.  Hardneck varieties require some time in frozen ground, so are not recommended for warmer climates.   In the spring, they produce a tall edible stem called a "scape"  that should be cut and can be used as a mild garlic seasoning.  The hard neck varieties are also generally known for their stronger taste.
To plant the garlic, separate into individual cloves, but leave the peel on.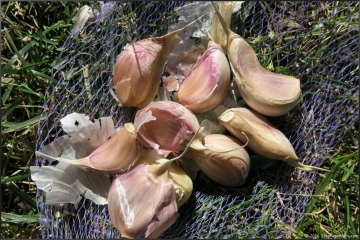 In a spot that will get full sun to part-shade, plant the cloves with the pointy end up and the "root" end down, at a depth of 2-4 inches.  Space the cloves 4-6 inches apart and rows 12 inches apart.  Cover with 2-4 inches of mulch to preserve moisture and insulate against the cold.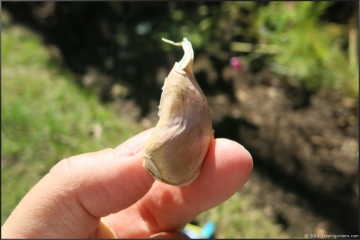 Here's the 2 locations I selected.  Since they need to overwinter, I was extra careful to mark where the cloves are since I know I tend to lose plant markers, and to mark off the whole area to be sure I don't dig in it in the spring.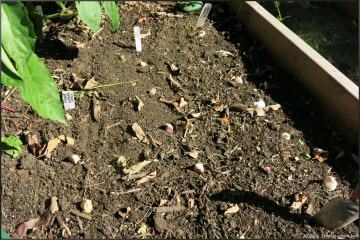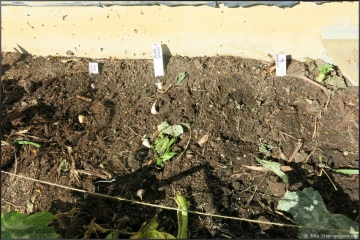 I'm looking forward to seeing it come up in the spring.   Have you ever grown garlic?
Save