We were out winter hiking in Peninsula State Park, when we thought it'd be fun to take a short cut through the interior on the little used Trail Trampers Delight trail.  Someone had fun naming that trail!  Just beautiful and so quiet after a fresh overnight snowfall. Yes, there's a trail there 🙂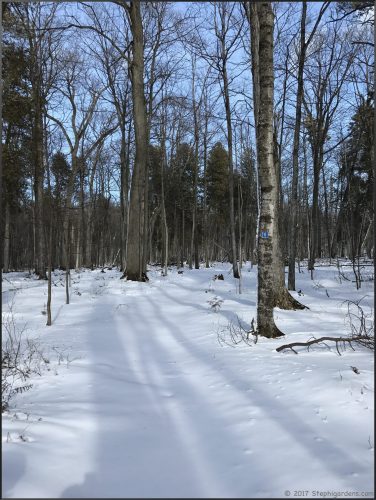 Lots of animal trails snaking through the fresh snow…like this coyote catching up to friends.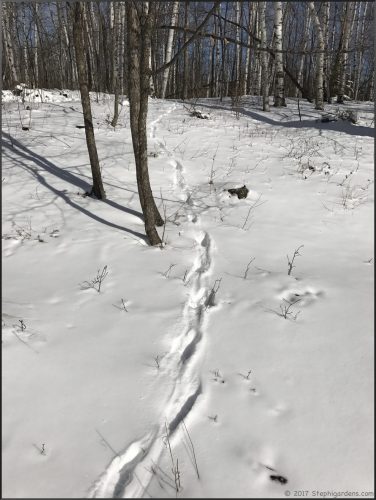 and this Canadian Goose apparently taking a trip to the outhouse 🙂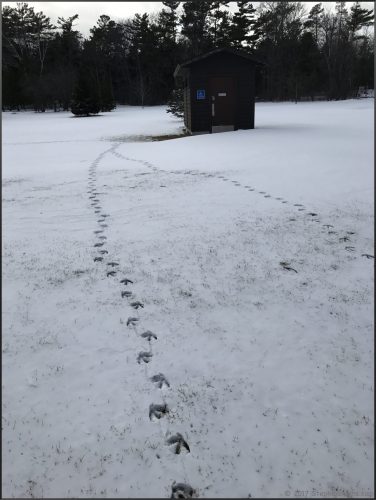 But the most exciting part of the trip was the Pileated Woodpecker that didn't show any fear of us and just went about his business. We had seen one earlier on the walk, but he was a little too far and high to really get a good look.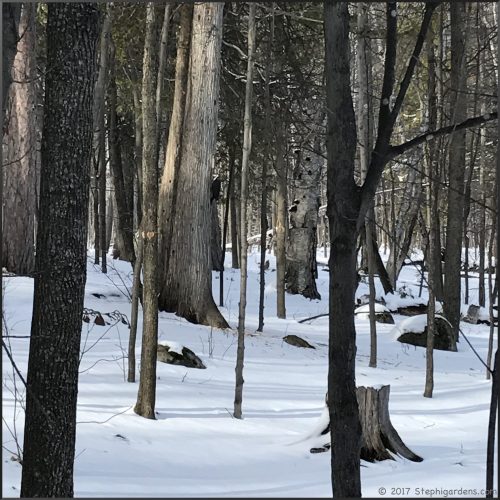 But this one flew in front of us and landed about about 30 feet away at eye level.  He went hungrily to work. You can see all the large chunks of wood that he's been pecking out suggesting a lot of very recent activity.
Steve headed in for a closer look. Wish he had bought his good camera but in this case the handy iphone will have to do.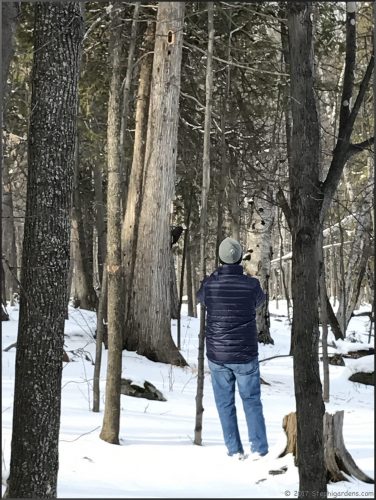 Getting ready. There's a lot of power behind that hit.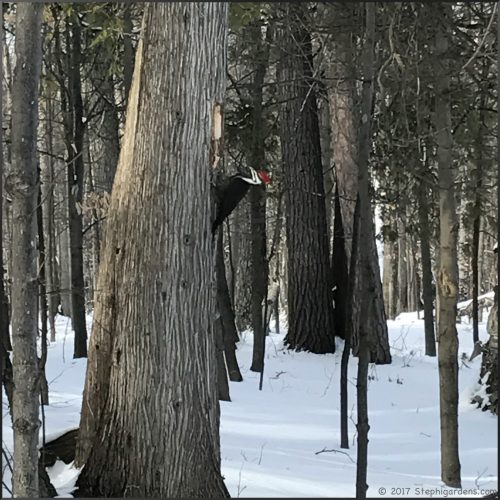 They also carve out the distinctive rectangular hole quite purposefully. We watched him at times pecking from the side to wedge out a loose shaving.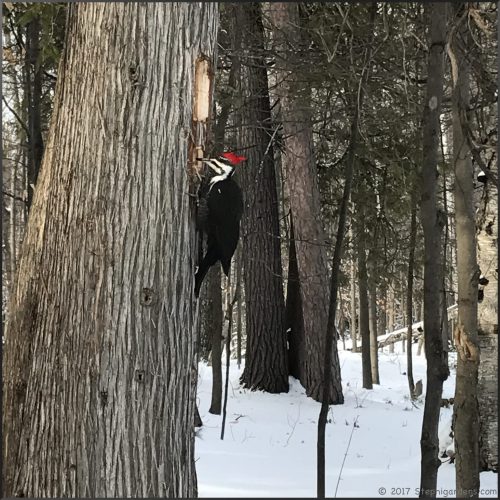 The male Pileated has an entirely red crest, and the female a dark forehead. The male also has a red stripe on his face that is missing on the female. So this one is we've been watching is a male. There was another nearby, probably his mate. Pileated Woodpeckers stay together as a pair all year round, and rarely tolerate others in its territory.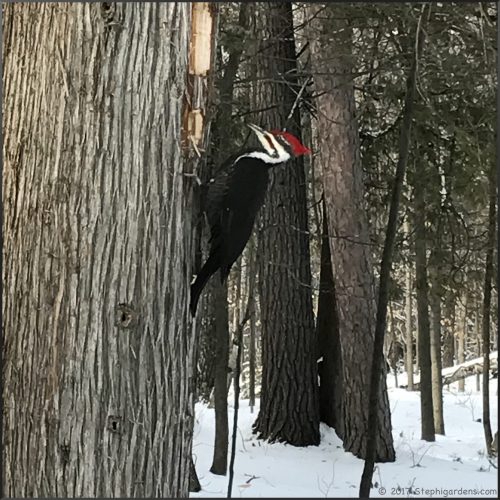 I decided I wanted a closer look and the Pileated and I began a little game of hide and seek. I wasn't quite as stealthy so he moved around back and kept poking his head out to see if I was there.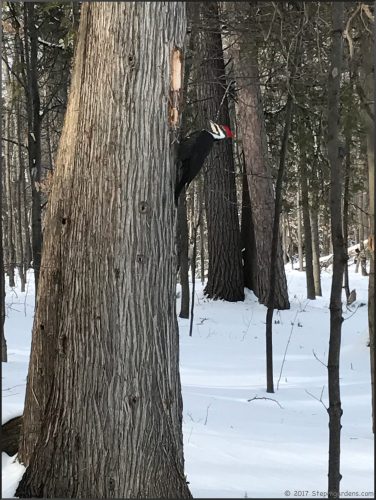 Movie time!
Watching this makes my head hurt and would certainly give me a concussion, or kill me, if I tried to strike a tree with that kind of force. Scientists estimate that a woodpecker may strike the tree with forces greater than 1000 G's, far more than a human can withstand. We can certainly learn some things from a woodpecker.
To begin with, their strong neck muscles diffuse the blow and a third eyelid protect their eyes.  A woodpeckers brain and skull and also specially designed to withstand the G forces. The brain is surrounded by trabeculae, tiny beamlike projections of bone that form a spongy bone mesh that protects the brain, and the brain fills the skull so there is no "sloshing around" on impact. There's also a hyoid bone, which in humans it is found in the middle of the neck. In a woodpecker, this bone wraps around the skull to act as a seatbelt to keep it in place and further minimize the impact on the bird's brain.  Even the beak itself helps in minimizing brain injury. While the outer beak appears longer than the lower, the actual bone structure of the lower is longer and stronger, sending much of the impact to the lower parts of the skull, away from the brain.  Scientists are continuing to study these amazing birds and hopefully learn from them to protect human brains who sustain repeated impacts, like football players.
Of course, I have to show one of my mom Peggy's backyard photos.  This female (note the gray on the cap and no red cheek bar) was visiting her suet feeder. How lucky she is to have these spectacular visitors to her backyard.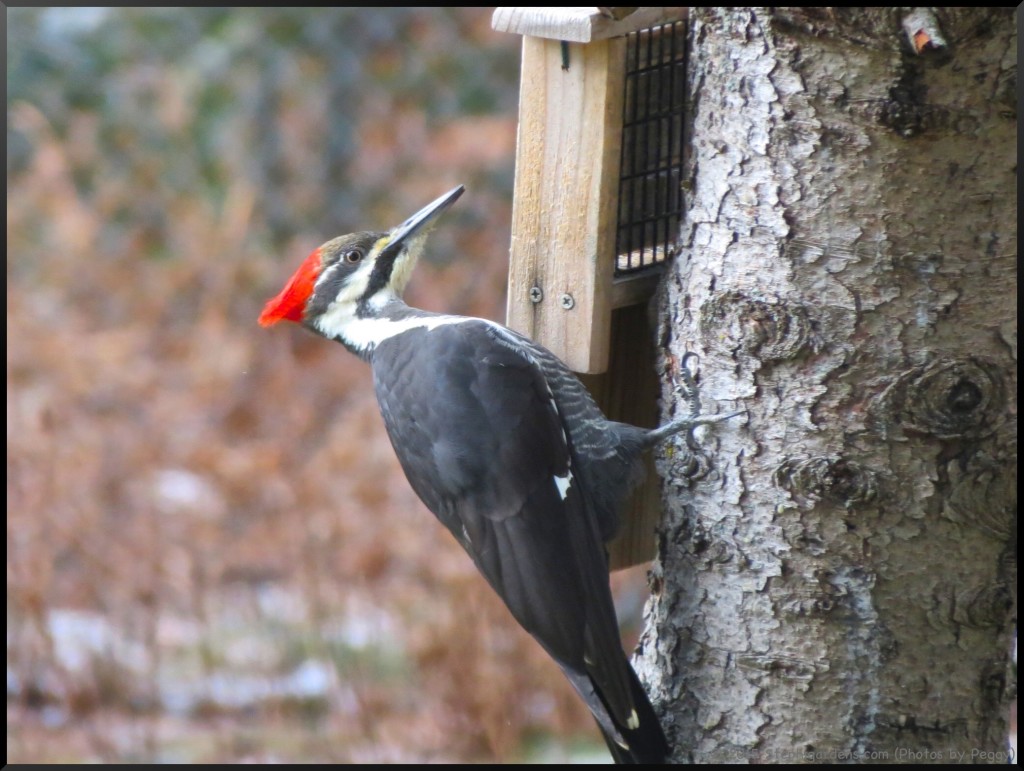 Photo credits:  most photos by Steve; last picture is a Photo by Peggy