Each year I like to try something new in the garden. Potatoes sounded like a fun and pretty easy experiment, so I became a potato farmer last spring.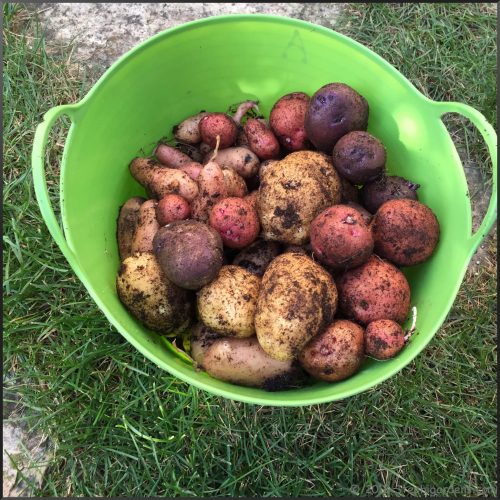 I bought Yukon Gold and a Red, White and Blue blend of seed potatoes from Home Depot and French Fingerlings from a local nursery.  Like garlic, you can't grow potatoes from grocery store potatoes since they've been treated to prevent sprouting. You also want certified seed potatoes to be sure you are getting a healthy disease free and healthy variety. I kept them cool and dark until it was warm enough to plant. Potatoes are cool weather plants, but I still needed to wait for the soil temperatures to be above 45.
About two weeks before planting, it's time for "chitting" the potatoes.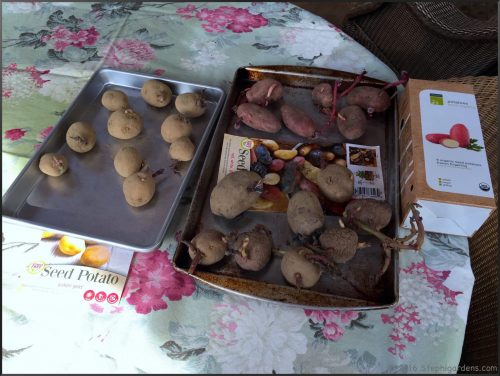 Chitting is the process of growing shoots on the potato tubers prior to planting. This helps ensure faster growth and heavier crops. Lay the seed potatoes on a tray or in egg carton in a cool, frost free location out of direct sunlight. Set them so that the "rose end", or the end already sprouting immature shoots, is facing upwards. After a week or so, it's time to cut the tubers into pieces and let the cuts heal for 3-4 days.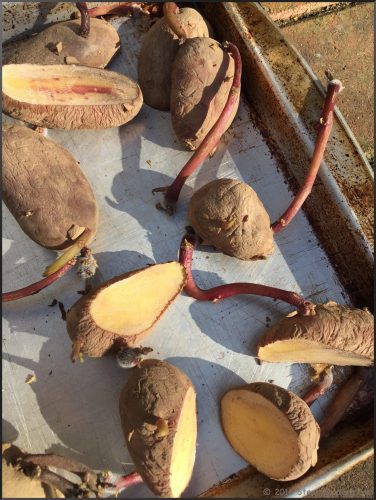 Each piece should have at least one eye with sprouts at least 1 inch long.
Where to plant? Potatoes can be grown either in the garden or in bags. I decided to try it both ways. Here at home where I have less space I grew them in bags. In my Wisconsin garden, I planted them in hills in the garden.
Growing in Bags
I bought three different bags, each having different features. I got one large 15 gallon canvas Geopot Geo-potato bag, a pack of 2 polyethylene Gardman bags, and a pack of 3 polypropylene Haxnicks Potato Patio bags.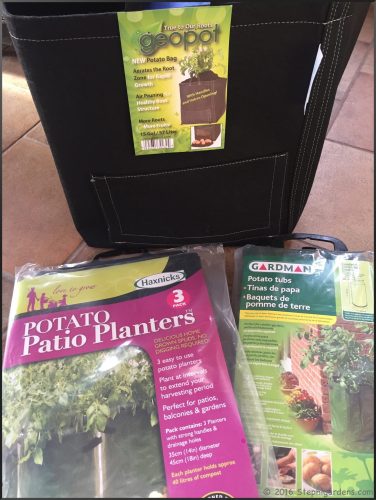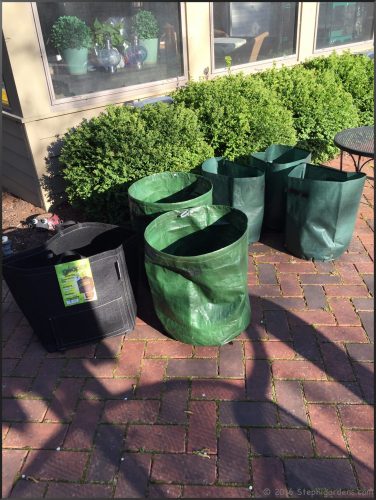 The first 2 types had velcro access flaps, all 3 had handles and drainage capabilities and all seemed very sturdy.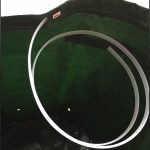 The Gardman bags had a plastic reinforcing ring to keep the bag upright. Some reviewers mentioned they had trouble feeding it through, but I had no problems.  It helped keep the bag open until the soil was high enough to push out the sides. The Haxnicks Potato Patio bags didn't have the additional support, so I just rolled down the top a few inches to keep it open.
I used a 1:1 moistened potting soil and compost mixture in the bags. Add about 4 inches of soil in the bottom of the bag and lay your cut seed potatoes, eye side on top, evenly spaced. I put 5-8 seed potatoes pieces in each bag.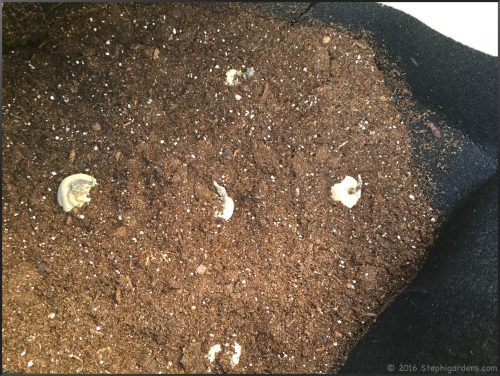 Cover with about 3 inches of moist soil.
Soon after I planted my potatoes we had a late frost, so into the porch the bags went for a few days. Luckily they were still light enough to move easily. Not so easy later in the season when they were full of dirt!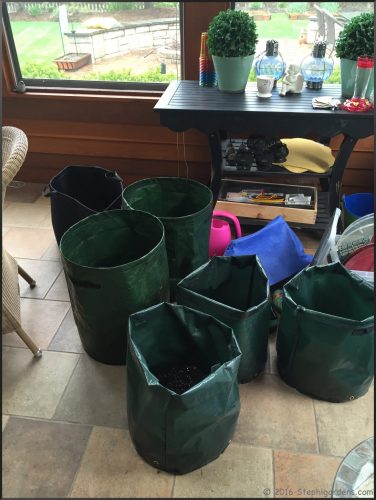 Finally, I placed the bags in a sunny location and kept them watered.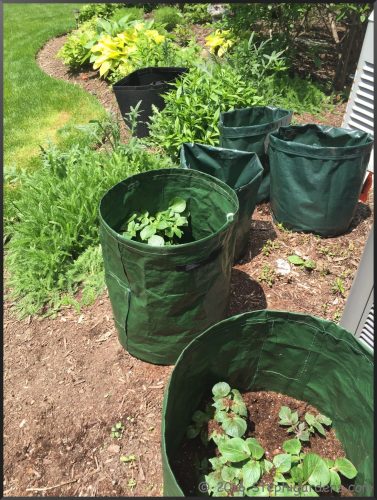 The soil should be kept moist, but not soggy. After the sprouts get to be about 8 inches high, add about 4 more inches of soil to cover.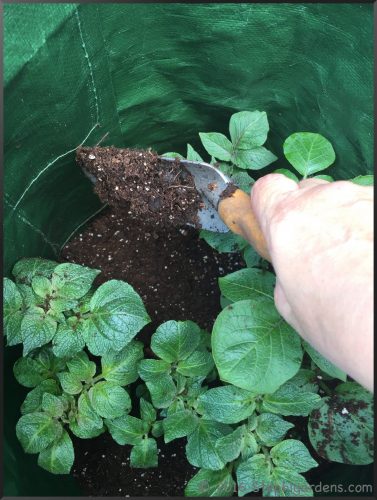 Continue until the bag is full of dirt. Potatoes grow along the underground stems, so keeping more stem underground increases yield. Keep the bags in full sun, keep the soil moist and let them grow.
To be continued….
Planting in Hills
As an alternative to growing in pots, if you have the space potatoes can be grown directly in the garden using a hill method. Dig troughs (or holes if only a few potatoes) about 4-6 inches deep and lay the prepared seed potatoes in them about 6-8 inches apart. I planted Yukon gold potatoes by this method.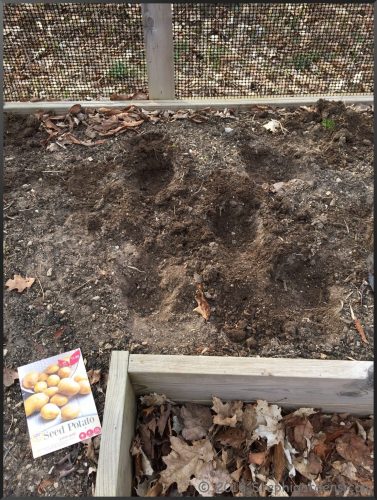 As the plants grow, continue to cover the foliage with surrounding soil creating hills to bury as much stem as possible. This increases yield, and keeps the potatoes from sunlight which causes them to turn green. The green color is actually chlorophyll which is harmless, but it signifies that there is a high level of the toxin solanine. A little green isn't harmful, but it's generally a good idea to peel off any green skin or cut away green sections before cooking.

to be continued….
Next post–How did they turn out????