February is finally done and it was quite a month for much of the country. It finished here in Chicago as tied with 1875 for the coldest February ever, with an average temperature of 14.6°F, and the third snowiest with just under 27 inches. The Chicago NWS has some great graphics on all the record breaking winter data here. I hope March will not be anywhere near as record breaking.
I took the last day of the month to go around with Daisy and see how things were looking. Snowy would be the best description.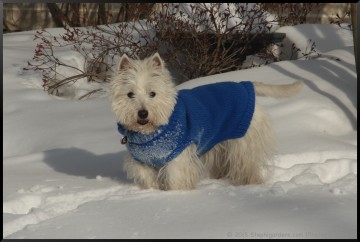 I have no idea how the plants are faring this year. I'll have to just be patient and wait and see.
This is what I call the "sparrow corner". The sparrows love having their own feeder filled with inexpensive food, and have spent all winter flitting back and forth from the viburnum to the feeder. Keeps them occupied and away from the other feeders.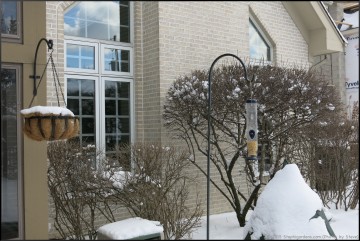 Like most winters, the arborvitae and yews took the worst beating. The "privacy fence" of  arborvitae are actually beginning to look better than they did earlier this month, so maybe it'll last another year.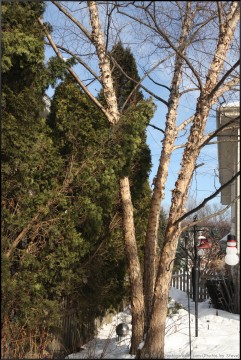 The yews still show winter burn and snow damage from last year, and I'm expecting that they'll look worse this year. They've been crushed by all the snow once again. Maybe I'll be pleasantly surprised. and they'll bounce back. Or it'll give me chance to start over again 🙂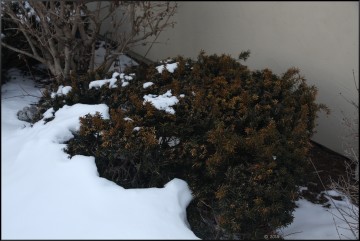 The vegetable gardens in the back and side yards are well insulated and just waiting for spring, which can't come fast enough. The sticks mark the overwintering garlic.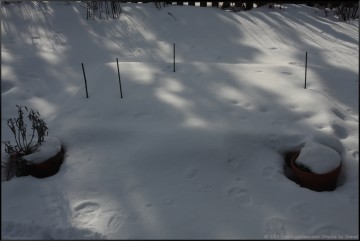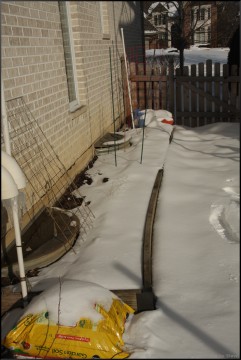 This birdhouse doesn't look very inviting. Last year I put them out too late, so no one made it their home. Hopefully this spring.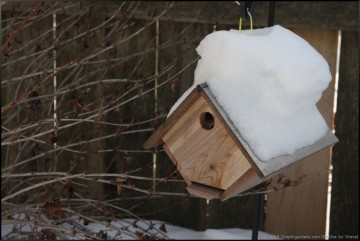 My feeders on the feeder pole have been a hit (This Birthday Was For The Birds)! Cardinals, red-breasted nuthatches, white-breasted nuthatches, downy woodpeckers, chickadees, goldfinches, purple finches and house finches are daily visitors. Juncoes happily scavenge anything that spills on the ground.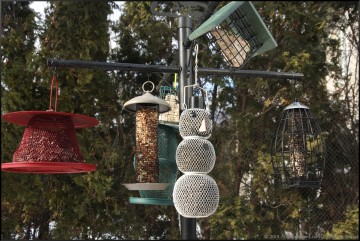 At least it's been a lot sunnier lately and my solar snowman finally cheerfully lights up the night.
How are your plants faring? Are you worried?